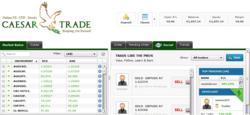 the intermingling of beginning traders with those having more experience, will surely benefit all parties involved
Dayton, OH (PRWEB) September 28, 2012
Social trading is the web's most recent, and perhaps most rewarding, financial community. It provides an opportunity for forex traders to grow their financial portfolios, and ultimately see what moves other traders are making. In essence, social trading is an all-encompassing community of forex traders looking to stay abreast of the latest financial news and trends.
Furthering the trend of social trading, CaesarTrade will be offering a social trading platform of its own, which will allow members of the site to follow each other, see what trades are being made, and perhaps even emulate such moves to better each other's success in the market.
CaesarTrade has decided to offer its social trading platform to cater to traders of all experience levels. While the platform will certainly not have a shortage of experienced traders participating, CaesarTrade CEO, Eric Harbor, who has extensive knowledge of the social trading venues, believes that the intermingling of beginning traders with those having more experience, will surely benefit all parties involved.
Company Information:
CaesarTrade is an online forex trading company focused on saving clients time and money by offering Personalized Service, Timely Reports, Professional Signals and Consultation and Everyday Low Prices. The brokerage is headed by CEO Eric Harbor who has been involved in forex and the financial markets since 1996, and Cliff Wachtel, a highly regarded forex educator and published author of "The Sensible Guide to Forex."
For more information on forex trading and its mental health benefits, visit ht http://www.CaesarTrade.com. You can also follow them on https://twitter.com/MoneyThoughts.