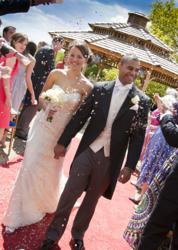 Our Facebook fans have increased by more than 250% in just four months.
Lane End, Buckinghamshire (PRWEB) December 21, 2012
Couples getting married are increasingly using social networking to great advantage when planning their wedding, report the experts at The Pavilion at Lane End.
Wedding couples are increasingly engaging with their guests via social media according to Mashable's Social and Tech wedding survey, carried out in conjunction with TheKnot.com.
Most (79%) of those interviewed had used social media platforms to become fans of wedding suppliers such as The Pavilion wedding venue.
Approximately one in three brides changed their relationship status within hours of getting engaged and more than half shared progress updates in the lead up to their wedding day.
Smart phone application Weddings UK reported more than 80,000 downloads since its launch.
Mashable's Andrea Smith said: "Today's bride is both connected and social.
"In other words, she has hastags and QR Codes and she knows how to use them."
The Buckinghamshire wedding venue, The Pavilion at Lane End, has seen an increase in social interaction.
Pavilion Marketing Manager Heni Fourie said: "Our Facebook fans have increased by more than 250% in just four months.
"We are now looking at other platforms to further engage with brides-to-be and provide a more helpful and interactive service online."
The experienced team at The Pavilion offers a professional wedding planning service for brides getting married at this popular outdoor wedding venue in High Wycombe.
The team is planning to incorporate social tools to offer assistance during both the planning stage and on the actual wedding day.
They offer the following five ideas about how social technology can be used when planning a wedding:

Create various Pinterest boards to plan different elements such as bridesmaid dresses, wedding flowers or wedding venues – key people such as the groom, head bridesmaid and mother-of-the-bride can give their input by having access to pin on to specific boards.
If you are concerned about sharing progress updates with guests who are not invited then opt for a Facebook group where updates can be shared with a select group of people – your invited guests.
If you are having trouble choosing a menu then use an online poll such as Twtpoll to find out what the majority of your guests would prefer.
Create your own wedding website through sites such as Gettingmarried.co.uk and promote it to your guests via social platforms such as Facebook and Twitter.
Film special messages from your guests on the wedding day and create a YouTube channel that can be viewed and shared after the wedding.
The Pavilion will be hosting the first of two annual wedding open days on Sunday February 17 2013.
The wedding open day will take place at the venue between 11am and 4pm when brides will be able to meet with The Pavilion's team of experienced wedding planners for a tour of the venue.
The Pavilion offers three wedding packages and the event will be attended by the venue's suppliers.
The Silver wedding package includes exclusive venue hire, a drinks package, three-course wedding breakfast and evening buffet.
The Gold and Platinum packages both include reception flowers and wedding cake. Chair covers are included in the Platinum package.
The Pavilion comes complete with a beautiful Garden Gazebo and is one of Buckinghamshire's only wedding venues licensed to host outdoor civil ceremonies.
In addition to weddings, The Pavilion is also a popular venue for exclusive Christmas parties and summer team building events.
The Pavilion at Lane End offers convenient access from all the main motorways. It is only 30 miles from central London and within 30 minutes of the major airports, making it ideal for organisers requiring a meeting or conference venue near Heathrow.
For further information about weddings at The Pavilion please contact Sales and Marketing Manager Heni Fourie, telephone +44 (0)845 521 3013.
-Ends-
Notes for Editors
The Pavilion at Lane End
Church Road
Lane End
Buckinghamshire
HP14 3HH
United Kingdom
Tel: +44 (0)1494 881171
The Pavilion at Lane End is set in 26 acres of rolling Chilterns countryside in Buckinghamshire, just 30 miles from London and licensed to host indoor and outdoor wedding ceremonies. The venue can accommodate up to 130 guests for a civil ceremony and formal wedding breakfast with up to 180 evening guests. The Pavilion is one of five buildings at Lane End Conference Centre with access to 104 bedrooms, four lounge and bar areas, four dining rooms, a games room with a lounge and bar, plus plenty of fitness and leisure facilities.