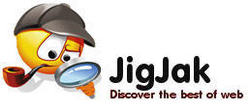 This really helps give other visitors an idea of what the web link is about.
Dallas, TX (PRWEB) October 16, 2007
The best ideas are borne of necessity. Such was the case with JigJak.com , a social bookmarking and blogging site, which recently launched its beta version.
Relevant Web content can be difficult to locate among the mountain of sub-standard content. JigJak.com eliminates this problem by combining social bookmarking, blogging, RSS and syndication with a form of non-hierarchical, democratic editorial control. All the sites listed on JigJak have been reviewed, recommended and rated by users just like you based on innovations, usefulness and creativity. The fact is, humans can determine the best sites better than computers or algorithms.
"The difference with JigJak and other social bookmarking sites is that our members not only recommend a bookmark, but also add their review of the bookmark," said Abu Sadeq, the creator of JigJak. "This really helps give other visitors an idea of what the web link is about."
"JigJak is elegantly simple, truly useful, and subtly powerful. It doesn't try to do too much, and it delivers its core service -- bookmarking -- reliably and well," Sadeq said.
Visitors to JigJak can search for resources by keyword or popularity and see the public bookmarks, tags, and classification schemes that registered users have created and saved.
JigJak membership is free of charge and members can:
· Import and store their browser bookmarks from their home or work PC to access their favorite websites from anywhere.
· Use a browser bookmarklet or widget to easily tag a website while browsing the web.
· Add mobile sites to their "favorites" and view this list from their mobile phone.
· Recommend Websites, allowing others to vote and comment on them.
· Create their own profile page (like a biography), which is viewable by other members.
· Easily make social connections with other individuals by adding them to their network.
###