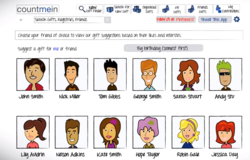 It's a simple, effortless solution for consumers that alleviates the common stresses of collaborating on holiday shopping and gift-giving
Toronto, Ontario (PRWEB) October 16, 2012
Just in time for the fast approaching holiday season, CountMeIn has introduced a game-changing, collaborative experience for consumers by offering shoppers a unique solution for contributing on gifts with friends and family -- from anywhere in the world.
Within CountMeIn's international Facebook mall, consumers can now browse through categories from jewelry and handbags to tech gadgets and appliances, and promote the gifts they want for themselves, friends or loved ones. With a few simple clicks, consumers can select a product to "create a gift" and invite their Twitter, Facebook and Pinterest networks to contribute together or "chip-in" on the cost of the purchase.
"It's a simple, effortless solution for consumers that alleviates the common stresses of collaborating on holiday shopping and gift-giving." says Jeff Saul, Co-founder of CountMeIn.
CountMeIn aims to make consumers gift-giving superstars. Instead of blindly shopping for gifts, CMI will assist users by matching up relevant gift ideas based on their friends and family members personal interests and "likes", another handy time-saving tool for consumers. Birthdays, upcoming engagements and events are readily available and sorted by date helping users to avoid missing important occasions. Users can additionally input events and personal milestones as well within CMI's platform, giving their networks more opportunities to organize a gift.
Any must-have gift can be manually added using the convenience of a request feature, an option that will bring more products and retailers to CountMeIn's rapidly growing catalog. Using CMI's solution, users can easily track the progress of their gifts contributions every step of the way, which helps consumers monitor group "chip-ins". And, when the contributions reach the full purchase cost of the item, the gift is shipped out with very little hassle – no more waiting for a friend or family member to cough up their portion -- no more scratchy reindeer sweaters or unwanted gifts. "It's the next generation of shopping with a social twist." says Jeff Saul.
About CountMeIn
CountMeIn aims to assist brands and retailers in monetizing their fans and followers, using an easy-to-use, all-in-one solution to increase sales and conversions by bridging the gap of contribution, sale and collaboration. For consumers, it's a fun shopping experience that enables them to promote the products they want and love, with the added benefit of using an intuitive platform that can organize gifts for anyone across multiple platforms.
Visit the CountMeIn App and connect with the team on Facebook and Twitter.