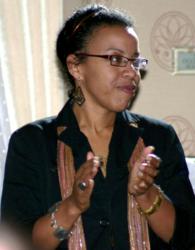 Atlanta, GA (PRWEB) May 23, 2013
During its April 12, 2013 Annual Membership Meeting in Apopka, FL, Southern Partners Fund (SPF) members honored Gardenia White for more than six years of exemplary service as Board Chair. White served on the Advisory Committee to help establish the Foundation, joining SPF as a member in 1998. Often commended for her outstanding leadership skills and experience, she has led SPF through critical periods in its organizational life.
In a farewell letter to the board White wrote, "… I have fought for Social Justice in both the South and North for over 46 years—with Southern Partners Fund for 15 of those years—and I have enjoyed every second of it! However, it is now time for me to step aside to make room for a new generation to lead Southern Partners Fund. As I transition from the front lines, I think it is important that we veterans of the movement realize the need for new voices with different perspectives. Far too often, I have seen folk, like me, who refuse to let go and as a result, stagnate the organization. This must change if we are to be successful in our ongoing work. Leaving a strong legacy for others to build on is key."
As the membership honored White for her years of dedicated and committed service, the Board of Trustees recognized Erin Dale Byrd's impressive and diverse background electing her as the new board chair.
Byrd joined the Southern Partners Fund as a member in 2007 and was elected to the Board of Trustees in 2009. She has served as treasurer and chaired the Finance and Investment Committees where she managed the organizations assets of nearly $9 million. As chair of the Investment Committee, Byrd provided leadership and guidance in developing socially responsible investment strategies to grow the organizations assets.
Erin is a mother, community activist, political strategist, and cultural worker in Raleigh, NC. She was raised in a military family with roots in Tennessee and Texas. She has 13 years' experience in successful coalition work on campaigns including, increasing the minimum wage, public financing of judicial campaigns and same day voter registration. She is a proud member of Black Workers for Justice. She is the Civic Engagement Director of Blueprint NC, a collaborative of 53 progressive organizations in NC working for a fairer, more just North Carolina. Blueprint NC is part of the State Voices national network.
Erin's work has focused on building the capacity of organizations, with emphasis on culture, civic engagement/organizing, planning, communication and evaluation. She is on the Executive Board of the North Carolina State Conference of Branches of the NAACP, as the state political action chair. She also serves on the board of the North Carolina Association of Community Development Corporations. She is a member of the Fruit of Labor, a singing ensemble and the cultural arm of Black Workers for Justice. Erin earned a B.A. (1997) in Sociology from the College of William and Mary, in Virginia.
Ron White, SPF Interim Executive Director, shared, "SPF is gifted with an extraordinary reserve of talent, and its board leadership is a reflection of the "best of the best". As we say goodbye to Gardenia White as Chair, we are most pleased that she will continue to contribute her vision, wisdom and wit as a member of SPF. Erin Byrd has already proven herself a valuable guide to the investment committee in maximizing SPF's contributions to social change not just through our grants and programming, but through our choice of investments and banking institutions. She's a persistent and exemplary exponent of the 'double bottom line.' I know I speak for all the staff when I say we very much look forward to SPF's future under her guidance of the board."
Established in 1998, Southern Partners Fund (SPF) is a 501(c) (3) public foundation serving grassroots organizations in rural communities across 12 states: Alabama, Arkansas, Florida, Georgia, Kentucky, Louisiana, Mississippi, North Carolina, South Carolina, Tennessee, Virginia, and West Virginia. SPF's mission and vision for promoting self-determination is highly valued in the organization's decision-making process: those affected by an issue are directly involved in the problem-solving process for successful resolution of those issues.
Want to learn more or contribute to Southern Partners Fund's effort to advance social change in the rural South? Donate online to Southern Partners Fund.