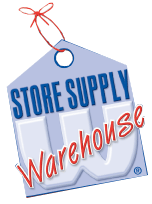 The more we can enable our customers to interact with members of our community, the better the shopping experience will be.
St. Louis, MO (PRWEB) October 19, 2012
Today, online consumer behavior has never been more valuable to online retailers, including multi-channel retailers like Store Supply Warehouse. The St. Louis-based retail supply company recently made updates to its website to encourage customers to share, engage, and review products on their site.
Among the many updates added to the site, Store Supply Warehouse added a product review opportunity for their customers to add reviews and ratings of the products that they have previously purchased. With product reviews now available on its site, customers will have an inventory of the pros and cons of each product, as well as different ways the items can be used and displayed.
"Ultimately, we added product reviews to provide value to the retailer community," says Matt Wohlstadter, President of Store Supply Warehouse. "Product reviews can really help the customer when searching for a product that he or she has never used before. It gives them an idea about the quality and possible usages of the product."
Additionally, Store Supply Warehouse has made sharing easier. Using social media buttons added to every product page, customers can share the products that they've purchased to their favorite social media outlet. With the click of a button, customers can let their friends, customers, and fellow retailers know where they purchased a product or how they liked the product. Furthermore, they can add their own comments and general observations about how the product works, and how they have used the product.
Store Supply Warehouse will also be rolling out product-instructions and product-guides for some of the supplies listed on the website. These will serve as useful tools for retailers looking, especially for store fixtures, where the customer has to envision the product on their showroom floor. The guide will give them instructions for construction and potential uses.
"We want to provide our customers with as many resources as possible, to ensure that their shopping experience is a good one. The more we can enable our customers to interact with members of our community, the better the shopping experience will be," adds Wohlstadter.
In addition to the user-friendly site updates, Store Supply Warehouse makes it easy for customers to purchase the store supplies they need in a one-stop-shop manner, with a full e-catalog with a search feature. For more information or to request a print catalog, please visit the website: http://www.storesupply.com/.
About Store Supply Warehouse
Store Supply Warehouse was founded in 1994 in St. Louis, and has since seen immense growth, selling retail fixtures and retail store supplies, including display cases, racks and shelving, shopping bags, hangers, pricing and tagging guns and mannequins. The distribution chain takes pride in its quick transaction process, efficient delivery, and quality customer service. Products are available for purchase through Store Supply's catalog, which is updated and distributed four times a year, or online at http://www.storesupply.com. Same-day shipping is guaranteed on all orders placed before 3 p.m. The company's main office is located at 9801 Page Avenue, St. Louis, Missouri, 63132. Contact Store Supply directly at 800-823-8887 or by email at contactus(at)StoreSupply(dot)com.