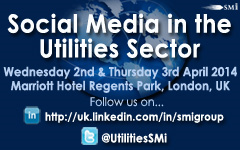 London (PRWEB UK) 15 December 2013
Social media can serve as a beneficial tool in recruitment, customer relations, brand reputation and can also contribute to commercial success. Against this backdrop, SMi's third annual Social Media in the Utilities Sector conference will focus on how these developments can be further refined with Utility Case Studies from recent implementations demonstrating what lessons have been learnt and how you can benefit. The two-day conference programme contains presentations from leading senior industry figures from an array of utilities including Affinity Water, Northern Powergrid, Jamaica Public Service Company Limited, Vitens, Electricity North West and RWE Npower.
Why attend SMi's 3rd annual Social Media in the Utilities Sector Conference?

Attend the only European based conference on Social media solely for the utilities market
Hear from a vast array of leading utilities sharing insight on their social media strategies
Explore the concept of activism in social media and how to promote while protecting your brand
Hear from the water industry about how they are benefitting from social media in their customer service strategy
Meet a whole range of utilities representatives, social media experts and agencies
Key speakers include:

Timothy Compton, Digital Community Coach Digital Engagement Team, Affinity Water
Emma Cottle, Internet Services Manager, Northern Powergrid
Winsome Callum, Head of Department, Corporate Communications, Jamaica Public Service Company Limited
Kim Van Gameren, Senior Communications Adviser, Vitens
Jonathan Morgan, External Communications Manager, Electricity North West
Joanne Frears, Solicitor - Head of Intellectual Property, Jeffrey Green Russell Limited
Murray Cox, Strategic Director, DigitasLBi
Beverley Harrington, Brand Reputation and Social Media PR Manager, RWE npower
Emily Ward, Social Media Marketing Lead, RWE npower
James Mossman, Associate Director Digital, Edelman
Mark Adams, Director, TCG.SO
To view the full speaker line-up and conference programme, visit http://www.smi-online.co.uk/2014media-utilities19.asp.
Plus, don't miss the pre-conference workshop taking place on 1st April 2014:
Growing your sphere of influence online | Led by Heleana Quartey, Head of Digital UK, Lewis PR
The online sphere provides us with unprecedented opportunities to identify and engage with a growing ecosystem of stakeholders. From customers, independent experts consumer champions, specialist interest groups to media and analysts, there are always new people that we wish to connect with and be wary of. In a sector that is increasingly affected by controversy, businesses will discover potential friends within these groups that can help carry their message forward, or protect against detractors that could damage their reputation.