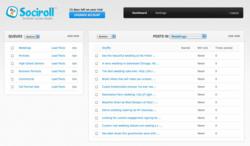 Enter your social media content once and let Sociroll do the rest...forever!
Beaverton, OR (PRWEB) May 18, 2011
Sociroll, http://www.sociroll.com, is an online subscription-based program that automates social media marketing with unlimited queues of posts and tweets that feed back to Facebook or Twitter. It is the latest offering from photography software solutions company Fundy Software, Inc., based in Beaverton, Oregon.
"It's another tool in the toolbox," said owner Andrew Funderburg. "Everyone is using Facebook and Twitter, but what makes Sociroll different is that it allows users to integrate what they are already doing in a singular location and then automates posts. There are solutions out there that allow users to schedule posts but not drip them in a constant stream."
The benefits of Sociroll include:
--The service automates a user's social media marketing needs.
--It cuts online marketing time by 80%.
--It builds constant online traffic to a business.
Fundy Software is offering a free three-week trial for users to test out how Sociroll, http://www.sociroll.com, will work for them. After that, it's only $12 a month. In contrast to TweetDeck or HootSuite, which monitors posts all on one dashboard, Sociroll streamlines social marketing and saves users time by auto-dripping posts.
Sociroll is also great for entrepreneurs, real estate agents, restaurant owners, financial analysts and other businesses as a social media marketing tool. Business owners, such as real estate agents, can set up a queue for 'Condos.' Agents can post links to their listing sites with a teaser headline, "New home in Lakeview school district," and information is updated once a day, once a week or every five hours depending on their settings.
There are multiple ways to harness the power of Sociroll, including posting useful tips on blogs and using Sociroll to direct the traffic to that information over and over again. Devoting time to social media can be challenging and Sociroll is going to help ease the demands of marketing your business.
Having a social media presence is extremely important in today's business environment. Facebook reports it has more than 500 million active users and there are roughly 200 million users on Twitter, according to Wikipedia.
A lot of entrepreneurs and business owners are still new to the social media game, according to Funderburg. What is great about Sociroll, http://www.sociroll.com, he added, is that it works alongside of Twitter and Facebook and is part of the social media system.
Running a full-time wedding and portrait photography studio, Paul Rich was too busy shooting on weekends and too busy designing albums, meeting couples and working on family shoots during the week to dedicate time to growing his business.
"I have to manage a multitude of tasks--from photographing weddings and portraits to designing advertising and marketing material, to managing the finances for the company--all the way down to janitorial services," said Rich, of Paul Rich Studio. "I like to joke that I am everything from the CEO to the guy who takes out the trash at night.
"Thanks to Sociroll, updating my Twitter and Facebook accounts has been checked off my to-do list," Rich said. "Sociroll is like having a client who is constantly raving about your business."
Fundy Software was founded in 2008 and since then has become known as a leader in software solutions for professional wedding and portrait photographers.The products are unmatched and top photographers in the industry have much praise for the support services that Fundy Software offers its users.
Visit http://www.sociroll.com for a free trial and to watch the video on how Sociroll works.
###