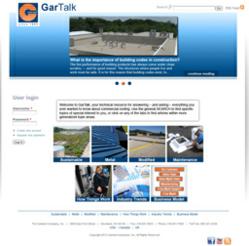 Tools such as GarTalk also provide a convenient business communication platform to help our sales force throughout the U.S., Canada, and the U.K. build and sustain effective relationships in a changing world
Cleveland, Ohio (PRWEB) May 17, 2012
GarTalk (gartalk.garlandco.com) is an interactive blog where Garland experts post technically robust content about commercial roofing, exterior waterproofing, and other construction-related topics. Customers are invited to register on-line to join the conversations by posting their own comments and questions. Garland intends to develop the blog into a comprehensive central repository of technical knowledge to help educate and inform individuals seeking best practice methodologies for waterproofing the exterior building envelope. Visitors can subscribe to topic-specific feeds to keep abreast of areas of special interest such as sustainable design or metal roofing.
Garland Facebook (http://www.facebook.com/GarlandCompany) offers a transparent window into the people and culture that make Garland unique. Posts include links to trade articles of special interest to facility managers, architects, and commercial building owners; photos and descriptions of completed projects; news on recent product and service introductions; and updates on trade shows, contests, and other events involving Garland and its extended family of employee-owners.
Garland president Dave Sokol explains, "By creating a positive on-line presence, Garland social media provide a platform for developing recognition and awareness of the Garland brand worldwide. Tools such as GarTalk also provide a convenient business communication platform to help our sales force throughout the U.S., Canada, and the U.K. build and sustain effective relationships in a changing world."
The Garland Company, Inc. is a worldwide leader of quality, high-performance roofing and building maintenance systems for the commercial, industrial and institutional markets. For over 100 years, Garland has continually developed unique product and service offerings that raise industry standards of performance in order to meet the technical performance requirements of a wide range of challenging waterproofing applications throughout the world. Its 200 local representatives are strategically positioned throughout the United States, Canada, and the United Kingdom to provide integrated product and service solutions for single and multi-property facilities. The Garland Company, Inc., headquartered in Cleveland, Ohio, is an ISO 9001:2008 certified company.
For more information, visit http://www.garlandco.com, or contact your local Garland representative at 1-800-321-9336.