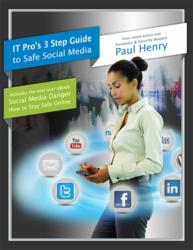 Social media introduces risk, no doubt about it
SCOTTSDALE, Ariz. (PRWEB) June 12, 2012
Social media has forever changed the way organizations conduct business. With two-thirds of adult internet users now using social networking sites according to Pew Research Center's Internet & American Life Project, organizations are now more than ever before able to conduct business and build relationships online. But there is no denying its use also presents a significant threat to data security. Recognizing the growing need for safe social media use, Lumension®, a global leader in endpoint security and management authored an eBook, The IT Pro's Guide to Safe Social Media.
"Social media introduces risk, no doubt about it," said Paul Henry, eBook author and security and forensics expert with Lumension. "The recent Linkedin and eHarmony password breaches are a good example of this. Security pros' first inclination is to of course ban its use altogether because that's the safest approach. But it's also the wrong one. As personal mobile devices continue to seep into the business environment, devices like smartphones and tablets only accelerate these social adoption trends."
Readers who download the free eBook will learn practical approaches to securing an organization's network, despite social media use. And, because IT also struggles with poor user choice when it comes to what should and should not be done online, the IT Pro's Guide eBook includes a sharable mini guide and other supporting resources created specifically for user consumption, Social Media Danger 101.
"No one is ever 100% secure today, but if we can at least employ the basic steps of creating and enforcing policy, educating our users and implementing a layered technology approach," we will be in a much better position to guard against the growing social media attack vector," Henry said.
Supporting Resources:

About Lumension Security, Inc.
Lumension Security, Inc., a global leader in endpoint management and security, develops, integrates and markets security software solutions that help businesses protect their vital information and manage critical risk across network and endpoint assets. Lumension enables more than 5,100 customers worldwide to achieve optimal security and IT success by delivering a proven and award-winning solution portfolio that includes Vulnerability Management, Endpoint Protection, Data Protection, Antivirus and Reporting and Compliance offerings. Lumension is known for providing world-class customer support and services 24x7, 365 days a year. Headquartered in Scottsdale, Arizona, Lumension has operations worldwide, including Virginia, Texas, Utah, Florida, Ireland, Luxembourg, the United Kingdom, Australia and Singapore. Lumension: IT Secured. Success Optimized.™ More information can be found at lumension.com.