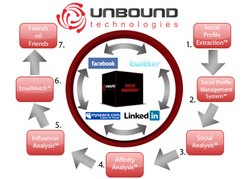 The important news here is the 'Super-Customers' within online www.unboundtech.com [social clusters] whom the UNBOUND Social Monetizer™ enables us to find and deliver to our clients
Palo Alto, Calif. (PRWEB) March 5, 2009
UNBOUND Technologies, a top specialist in social networks analytics and word-of-mouth (WOM) marketing, has announced that its industry-leading online social networks intelligence technology is now available as a hosted self-service Web 2.0 marketing offering -- the Social Monetizer™.
UNBOUND's Social Monetizer™ enables brand marketers, ad agencies, media companies and enterprise marketing departments to penetrate and manage social network ecosystems and master the ability to "monetize" social networks by finding Super-Customers in support of direct sales efforts and marketing campaign ROI goals. Early versions of the technology have been used in campaigns by brands like Comcast, Ford/Lincoln, Sony BMG and VIBE Media Group.
Social Monetizer™ users can access the Web portals of social networking services to gain brand equity, increase product awareness and drive leads and sales at far less cost and with far more efficiency and effectiveness -- and higher conversion rates--than any other online marketing approach. Social Monetizer™ empowers marketers of all sizes to harness the marketing potential of Web social spaces, connect online with target audiences, find the influencers who matter, build community around their brands, and generate profits.
"The important news here is the 'Super-Customers' within online social clusters whom the UNBOUND Social Monetizer™ enables us to find and deliver to our clients," said Chase McMichael, UNBOUND's president and CEO. "Super-Customers are true micro-marketing brand collaborators, but most companies are sitting on a gold mine of these kinds of influencers and don't even know it. UNBOUND changes that with the Social Monetizer™."
Through Social Monetizer™, UNBOUND gives brands an unprecedented insight into their customer base that far exceeds the results possible from focus groups, sampling surveys and all other forms of qualitative research, McMichael said, noting that Social Monetizer™ also addresses the problem of keywords and banner ads becoming increasingly less effective tools for attracting new customers.
"We start on a large scale by literally looking at a million customers through our unique Social Graph database, and that's revolutionary," he stated. "We then hone that down to a specific set of individuals and triangulate around specific sets of their shared interests, providing marketers with a very clear path in understanding targeted consumer connections, affinities and passion points -- whatever excites a brand's audience. We call these like-minded groups 'social clusters,' and in the center of social clusters are Super-Customers -- individual members of forums and groups who can make or break brands through their opinions that influence many of a brand's potential buyers."
New Media Channel -- Social Cluster Definition & Outreach
"Social cluster definition and outreach is now, along with search, email and display, a 'must-have' media channel," McMichael asserted. "Any media buying strategy aimed at understanding, reaching and converting a target audience into customers now has to include two key components: finding audience passion points and creating sustainable social interaction models."
World's Largest Social Graph Database:
UNBOUND Technologies is home to the world's largest Social Graph database, which contains in-depth information on more than 200 million consumers with online presences in MySpace, Facebook and other social networking services websites. The UNBOUND Social Graph database, which represents the collective online connections of each identified individual's activities and relationships to other people, media and ideas, enables brands to truly understand their target consumers, including who they are (demographics), what they're "into" (affinities), who they're connected to, and who influences them.
Pricing Special--'Test Drive'
Applications within the UNBOUND's Social Monetizer™ are licensed on a subscription basis, hosted by UNBOUND and made available to client customers over the Internet. Pricing ranges between $10,000-$35,000. To provide a first-hand look at the power of social mapping, UNBOUND Technologies is offering prospective customers a preliminary "Test Drive" of UNBOUND's Social Monetizer™ at a cost of $3,000, which will be applied toward a one-year subscription service for the Social Monetizer™.
About UNBOUND Technologies
UNBOUND Technologies is the first company to deliver social media data intelligence that enables major brands and small businesses to rapidly identify and engage target consumers--and the Super-Customers who influence them--in online interactions. Using proprietary social mapping technology, UNBOUND has developed one of the world's largest social graph databases, This is paired with a powerful, user-friendly widget platform to deliver affinity- and influencer-based viral marketing programs that are dramatically more effective than conventional marketing strategies in expanding brand awareness and consumer engagement. Headquartered in Palo Alto, Calif., UNBOUND has offices in Los Angeles and New York.
For more information about our company or products, please contact: UNBOUND Technologies, Inc., 535 Cowper Street, Palo Alto, CA 94301; Ph: 888.377.1264; email: info (at) unboundtech (dot) com Web: http://www.unboundtech.com; Ken Bane, Manager, Business Development; Ph: 310.528.7503; email: ken.bane (at) unboundtech (dot) com; Susan M. Hearn -Sales & Business Development; Ph: 917.805.4055; susan.hearn (at) unboundtech (dot) com
Media Contact:
Ned Madden
UNBOUND Technologies
ned.madden (at) unboundtech (dot) com
949/547-0143
# # #