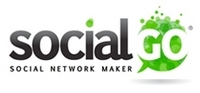 New York, NY (PRWEB) September 8, 2010
Much like for-profit businesses, which heavily rely on social networking for marketing and branding these days, nonprofits, charities and fundraisers are also learning how quickly word can spread by implementing social networking capabilities into their websites.
One such do-gooder, Rosie's Cancer Fund, has created a page with social networking site maker SocialGO. A two-time cancer survivor and believer in music therapy, Rosie was able to customize her site's design as well as set up direct links for purchasing songs she's written, in which she gives 50 percent of their proceeds to Australian cancer research. The other 50 percent goes back into more fundraising efforts.
Her "Music with a Cause" site also features RSS feeds, drop down menus and a Facebook widget, in which members can sign on and update their status, further spreading Rosie's mission. Her elaborate site also has a blog, an events calendar and photo and video links.
SocialGO's social network software & platform has helped hundred of charities, businesses, organizations and groups with similar interests build websites that cater to their specific needs—whether it's expanding their reach and message or creating a safe community with personal privacy settings for members to gather.
Churches have set up online congregations; dog lovers and football fans have built virtual communities; and large media outlets have let members vote on programming through SocialGO's customized sites. Even the Big Lottery Fund, which awards funds from The National Lottery, has made their social networking site into an arena for public discussion. Nowadays anyone can build a social networking site within minutes. Learn how to make a social network today at SocialGO.
###