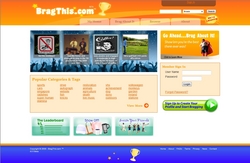 Please check your modesty at the door.
New York, NY (PRWEB) June 30, 2008
BragThis.com, a new social network for sharing abilities, achievements, adventures, and absurdities, announced its Beta today. BragThis.com aims to create a fun and competitive atmosphere where people can claim official bragging rights for their deeds. The site takes a somewhat satirical tone in its approach, enticing its users to portray themselves in a grandiose and almost brash manner. One company slogan states "Please check your modesty at the door."
Like other popular social networks, users have the opportunity to create a user profile and network with friends. BragThis.com differs in that it focuses on the actions of its users rather than information describing the user. Users can post their actions or bragging rights in the form of "Boasts" to the searchable network.
A BragThis.com "Boast" is a form of bragging right in which a user enters their sworn testimony, adds evidence in the form of audio, video, and photo, and may subpoena witnesses for further testimony. In return, they receive digital certificates, awards, trophies and a specified amount of points or stars are added to their total score.
Although BragThis.com is a social network, it does not directly compete with the social giants such as Facebook and MySpace. Rather it complements those networks that the user already belongs too. Users can easily post their bragging rights to their primary social network or social bookmarking site. Other social networks encourage users to fill out a lengthy profiles, BragThis.com's profile is rather down and dirty in that it asks three major questions: a brief statement about yourself, why you are great, and what you like to brag about.
According to founder Michael Evan Reiss, "BragThis.com aims to cultivate customer loyalty by creating an engaging and competitive environment."
Users can compete with each other by obtaining stars through posting their bragging rights. The Leader Board allows users to compare their standings with every other user on the network. In subsequent versions of the site, there will be more opportunities to directly complete with other users as well as to compete for real prizes.
Some other noteworthy features include: Show Off, a system where users can order items such as T-shirts, mugs, mouse pads, and more featuring their digital certificate or uploaded images, metrics that users can attach to their "Boasts" such as "Green With Envy"," Lie Detector", and "Insanity Factor" that can be valued by a jury of their peers (other users), and server-side encoding of uploaded video and audio files.
About BragThis.com
Created by entrepreneur and technology enthusiast Michael Evan Reiss, BragThis.com is the latest venture of Advertology, LLC. BragThis.com is a social boasting website that explores the activities of its users in an entertaining and slightly humorous fashion. BragThis.com is currently released as a Beta; several new features and greater levels of interactivity are scheduled to be released at later dates.
# # #