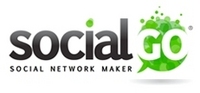 New York, NY (Vocus) October 20, 2010
With The Social Network out in movie theatres and receiving acclaim from critics and movie goers, the Internet is abuzz — not only with film reviews and Oscar talk, but also with how social networking, the phenomenon, will define the current generation.
It's impossible to go anywhere nowadays without someone discussing how he or she met or reconnected with someone on Facebook, nor is it possible to buy a product, research an interest or plan a vacation without being asked to join a social network of some sort. Social networking has become ingrained into our daily, even our hourly, activities.
Businesses know this and now regular, everyday folk are also looking to focus their online interactions based on purpose. Instead of being bothered by everyone who ever "requested" their friendship or solicited them to like their fan page, people have started forming their own inner social circles on custom websites. With easy to build platforms by social network makers like SocialGO, people can create their own custom site based on very broad or very specific interests.
One such group designed a network for video game makers across the world, whereas another made one for a select group of mothers in her neighborhood. Privacy settings and membership invitation are up to the social networking group itself and members can also decide which features best suit their needs — from video chats to interactive calendars to arcade games.
Options are endless on these sites, as more people move away from the traditional trappings of Facebook and Twitter. Social network software and website builders like SocialGO are constantly creating new widgets for users to add and play with. It's only a matter of time until we all become mini Mark Zuckerbergs and build our own social networks.
# # #