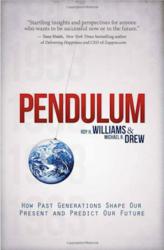 Austin, TX (PRWEB) October 04, 2012
Authors Roy H. Williams and Michael R. Drew announce the availability of their new book, "Pendulum: How Past Generations Shape Our Present and Predict Our Future." Published by Vanguard Press, "Pendulum" is available now at Barnes & Noble, Amazon, Books a Million and Hudson's. "Pendulum" explores the shifting patterns of history and how business people, entrepreneurs, marketers and anyone interested in understanding cultural climates can utilize these shifts to the fullest.
According to "Pendulum," politics, manners, humor, sexuality, wealth and even our definitions of success are periodically renegotiated based on the new values society chooses to use as a lens to judge what is acceptable. By researching three millennia of social and cultural Western history, the authors found that a pattern emerges every 40 years.
Shifting from a cooperative "we" era to an individualistic "me" era, each segment of history can be judged by these patterns. The current "we" era began in 2003. When studied, the authors believe these shifts can also be used to make informed and wise decisions based on the era and its predominating factors.
"Everyone wants to predict the future, but Michael R. Drew and Roy H. Williams have actually done it by analyzing the past," says Marshall Goldsmith, million-selling author of New York Times Best Sellers "MOJO" and "What Got You Here Won't Get You There." "'Pendulum' explores the generational shifts of the last 3000 years to help us understand what's in store for us. Using cultural milestones, historical events and even biblical stories, they show how society shifts every 40 years or so, and how marketers today can be much more effective. For anyone who wants a business to survive and grow in the next decades, it's essential to understand the swings of history. 'Pendulum' does just that. It's enlightening, insightful and just a little scary."
For more information, visit http://www.thependulumbook.com/.
About the Authors
Nicknamed "the Wizard of Ads" by an early client, Roy H. Williams and his staff have often been the unseen, pivotal force in amazing come-from behind victories in the worlds of business, politics, and finance. With over forty branch offices in the US, Canada, the UK, Australia, and Guatemala, Wizard of Ads, Inc. serves the advertising and marketing needs of business owners around the globe. Mr. William's books and Monday Morning Memos are a constant source of fascination and entertainment for his students and friends. His previous books, The Wizard of Ads, Secret Formulas of the Wizard of Ads, Magical Worlds of the Wizard of Ads all reached bestseller status. Roy teaches creative thinking, strategic planning, and human persuasion in a three-day Wizard Academy that, since its launch in May of 2000, has attracted a roster of students that includes many of the world's most forward-thinking and successful CEOs, educators, journalists, inventors, and consultants.
Since the age of nineteen, Michael R. Drew has become a leading book marketer in the publishing industry, propelling nearly 75 books onto national bestseller lists, including The Wall Street Journal, USA Today and The New York Times, and garnering over 1,000 #1 rankings for books on Amazon.com through his Promote A Book services. Michael heads a marketing agency that strives to build strong and real relationships with his clients and their audiences, increasing sales in a natural manner, and maximizing the depth and longevity of that relationship through its Persona Architecture and Platform Building programs. Michael has presented the Pendulum theory on stage with and for the Dali Lama, Sir Richard Branson, and Steven R. Covey, and privately for the Executive Committee at Franklin Covey.
###