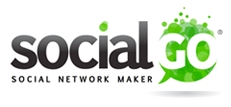 (Vocus/PRWEB) February 09, 2011
So far in 2011, various types of businesses — from puppy groomers in the local mall to bankers on Wall Street — are loosening up to the idea of online forums, moving to social network websites such as SocialGO to spread the word about their services, products and brands.
While some companies long ago boarded the social networking train, professionals in more formal industries such as finance and banking remained weary about the casualness of the social media forum. Now, however, according to a recent article in the Wall Street Journal, banking professionals are seeing the bright side of keeping up with the modern social world and using networking forums like Twitter and YouTube to provide information to investors and address customer service concerns. And in many cases these days they're looking to build their own social website in places such as SocialGO.
Other companies are taking social media trend one step further; they're foregoing Facebook and Twitter for more personalised forum software. With the help of online community software and social network makers like SocialGO, businesses are building sites based on each company's specific needs—whether it's offering limited membership to selected clients, or marketing services to an infinite number of potential customers.
What companies like most about these custom-made sites and not having to solely rely on the other major social networking sites is that they have control of their audience and privacy settings. And if they want to, they can easily integrate Facebook and Twitter into their sites so members can have multiple ways to connect with each other.
In turn, the idea isn't to monopolise and streamline social forums under one umbrella but to actually let members connect to more networks and go to specialized sites for specific needs.
Many business insiders say that forums will be a strong aspect of social networking in 2011. The social networking component is what drives people back to the site and return visitors mean return customers.
Find out more at http://www.socialgo.com and create your own social networking website today.
###