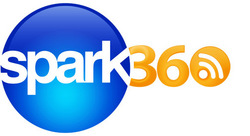 Dallas, TX (PRWEB) June 10, 2010
It's only been online since late March, but spark360.tv and its unique blend of broadcast news-style storytelling and web video/social media distribution is already showing stellar results for most of its clients.
According to analytical statistics released by spark360 director of technology Pete Kraft, six of the first eight companies featured on Social Business Television have seen their search term results hit Page One placement on Google, the world's top web search company. The text and/or video listings have also placed high on that search results page; shortly after their release on spark360.tv, none of the features ranked lower than 10th in search results:
Client Name | Search Term | # results | page # | Position
Interurban | urban dallas living | 7.98 mil. | Page 1 | Position 9
Edge Tech | computer memory business | 47.7 mil. | Page 1 | Positions 5,6
Rodney Anderson | medical debt relief act | .66 mil. | Page 1 | Position 8
Reliant | patient friendly hospitals | 4.99 mil. | Page 1 | Positions 4,5
Designs by Jun | sports fashion world | 177 mil. | Page 1 | Position 3
spark360 | social business television | 37.5 mil. | Page 1 | Positions 1,5,9
"These results are fantastic and really validate what we think is a truly innovate business model for online video storytelling and marketing," said Chris Kraft, president and founder of Splash Media, spark360's parent company. "This shows that our tactics for SEO and social media marketing are paying off, and why our clients are excited about engaging in this new form of marketing communications. To see these kinds of results at this early stage is proof that we're on to something big here at spark360."
The entrepreneurs and small/medium-sized businesses profiled on spark36o.tv are the subjects of 4-6 minute business news-style features, professionally shot and edited by an experienced team of award-winning journalists and producers. In-studio interviews with company executives are shot on a virtual-reality set generated by a $5.5 million state-of-the-art production facility. The profile is then placed within the company's proprietary 360 distribution platform, which includes branded web video channels like YouTube, Google Video, Bing, Vimeo and Revver; social media pages on Facebook, LinkedIn and Twitter; an iTunes podcast, mobile apps for the iPhone and the iPad, and a presence on IPTV platforms.
"I could stare at these search numbers all day long," said spark360 host/managing editor Renay San Miguel. "They don't just represent customers who are happy that we can deliver the goods. The numbers are evidence that we have a new way of telling a company's story and a better way of reaching the intended audience through web video and social media. And we really are just getting started here at spark360.tv."
About spark360
spark360 is a Web-based business television program that celebrates the spark of entrepreneurship in America by featuring the unique stories of small and middle-market businesses.
spark360 also provides a credible and relevant outlet to get your story to a global marketplace through our exclusive 360 Distribution social media platform. spark360 delivers broadcast-quality, network news-style programs via a comprehensive SEO-optimized "full circle" distribution strategy that reaches every corner of the Internet.spark360 is a division of Splash Media, L.P. http://www.spark360.tv
For media inquiries for spark360, please contact: Steven Swaim sswaim(at)spark360(dot)tv
About Splash Media
Splash Media L.P., based in Addison, Texas, creates and develops custom web-based communications and training solutions that are powered by video. We specialize in developing video communications strategies and video delivery platforms that drive our customer's bottom line. Splash Media is a leader in the Enterprise Video Communications industry and has been delivering Internet enabled strategic video solutions since 2004. http://www.splashmedia.com
For media inquiries for Splash Media, please contact: Chris Kraft ckraft(at)splashmedia(dot)com
# # #