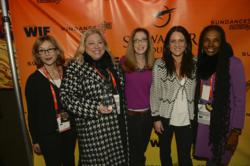 "Thank you so much. This is our ninth year at Sundance and it is very exciting. I don't do this work alone. I stand on the shoulders of the great women on my committee at Women In Film. ~ Producer Lucy Webb
Santa Monica, CA (PRWEB) January 31, 2013
The Goody Awards for social good announces their first Goody Awards of the Month based on user votes from Twitter. To give everyone a chance to vote for social good leaders year-round, the Goody Awards launched Voting during the 2013 CES (Consumer Electronics Show), and now has the first winners of the month. These first winners have a jump start for the Goody Awards of the Year competition, and users can keep track of the results on the leader board.
Along with presenting special Goody Awards at live events such as a Golden Goody Award to Producer Lucy Webb and her Women In Film in Park City Committee at Sundance 2013, users can now vote for friends, heroes and teams doing good via social media using Twitter hashtags, including #HeroGoody #TeamGoody #GoodDeedGoody #EcoGoody and #TeacherGoody.
And the first Goody Awards of the Month for January 2013 go to:
Hero Goody of the Month goes to @AmberJLawson – As the Committee Chair of the IAWTV (International Academy of Web TV) Awards, at CES (Consumer Electronics Show) in Las Vegas earlier this month, the tweet votes went wild for this multiplatform strategist, online video content programming & development executive, board advisor & catalytic philanthropist. Los Angeles/ New York
Teacher Goody of the Month goes to @NetImpact - Net Impact is teaching a new generation of social do-gooders, and has a vast global network. For building a new generation of leaders and careers for good, this group received the most votes for Teacher Goody in January. San Francisco, CA
Team Goody of the Month goes to @Sundancefest – For putting together an amazing film festival for 45,000+ people and with livestream sessions reaching a global audience, the Sundance Film Festival staff and 1,830 volunteers got the Team Goody of the Month. All Over The World
Eco Goody of the Month goes to @5Gyres – For continually raising awareness of plastic pollution, the 5 Gyres Institute received the most votes via Twitter for Eco Goody of the Month. This group researches and communicates how everyone can take action to save our oceans, and even has a Plastic Pledge online. Santa Monica, CA
Good Deed Goody of the Month goes to @MyBigFatMouth – The Host of The Vicki Winters Show is an actress, comedian and active tweeter who does little things that can really add up. From finding typos, filming reports on Sandy, and providing feedback on videos, this tweeter stacks up the good deeds. Lower Manhattan
For a vote to count, users must include three things in their tweet: @Username, Awards Category, and the Why.
1. Twitter handle you want to recognize (i.e. @tonyrobbins, @UNWomenLA )
2. Category = #HeroGoody #EcoGoody #TeamGoody #GoodDeedGoody or #TeacherGoody
3. Your WHY = for…(hosting a great event, buying me lunch, etc.)
If users want an easy way to vote, there is also a new Goody Awards Voting Form with fields on the Home page of GoodyAwards.com. The Goody Awards mission is to inspire change by recognizing good, and the new voting can build more buzz around everyday heroes making a difference in our lives. Users are already RTing the votes to share the good.
Along with these Twitter awards, the Goody Awards does marketing campaigns tied to special awards at live events for causes with brand sponsors. The Goody Awards just presented a Golden Goody Award (aka Oscar for social good) to Producer Lucy Webb and her Women In Film in Park City Committee at the Sundance Film Festival for bringing female filmmakers to the festival for the past 9 years. The Goody Awards will continue to support female voices through a digital media campaign with video, press releases and social media through the Oscars on Feb 24, 2013. Follow the tweets @GoodyAwards.
About Goody Awards
The Goody Awards does Social Good Awards via social media, special events and cause marketing campaigns in four key areas: women empowerment, health, environment, and education. To support causes and recognize good, the Goody Awards does pro bono PR for charities tied to Special Awards year-round. The Goody Awards mission is to inspire change by recognizing the good in the world. Anyone can tweet a shout out thank you at anytime via social media by including #HeroGoody #EcoGoody #TeamGoody #TeacherGoody and #GoodDeedGoody. CEO/Founder Liz H Kelly has built advertising campaigns and recognition programs for Fox Interactive Media/MySpace, Paramount Pictures, and the first Sprint PCS / Sprint Spectrum. Global Media Experts, Actors, Producers, Mobile Leaders and Philanthropists are on the Goody Awards Advisory Board. http://goodyawards.com
Media Contact
Liz H Kelly, Goody Awards, 310-987-7207