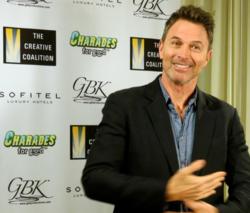 The Creative Coalition are prominent people in the entertainment industry, and we use the power that we have to generate media attention to focus on issues of social importance
Santa Monica, CA (PRWEB) February 28, 2013
To build social good buzz during Oscars 2013 week, the Goody Awards interviewed celebrities, brands and causes at parties, gifting suites and talent shoots. With a mission is to inspire change by recognizing good in four key areas (environment, education, health and women empowerment), the Goody Awards added voice to these causes through entertainment articles, blog posts, videos and social media. Each of the following groups received Goody Awards via Twitter @GoodyAwards #GoodyAwards.
Environment – Willie Nelson and sons played at the Global Green Pre-Oscar Party to raise money for green initiatives. Willie has been supporting Farm Aid for 28 years, buys local and believes our communities are essential to our survival. Goody Awards also covered Emmy Rossum ("Shameless"), Best Actress Nominee Helen Hunt ("The Sessions"), Luke Perry ("90210"), D.W. Moffett ("Switched at Birth"), Ed Begley Jr. ("Easy to Assemble") and his wife Rachel Carson ("Boston Legal"), Peter Mensah ("True Blood"), and more stars going green. Solar on Set was there to support their solar powered theme, and Sandy Initiative.
Education – Wayne Knight ("Seinfeld"), Tim Daly ("Private Practice"), CCH Pounder ("Avatar" "The Shield"), Ashley Williams ("How I Met Your Mother") and Rex Lee ("Entourage" "Suburgatory") were just a few of the celebrities supporting at The Creative Coalition arts advocacy program at the GBK Gifting Suite in Beverly Hills, CA. During this talent shoot, celebrities did "Charades for Good" on camera. Players can now choose The Creative Coalition to receive a portion of the profits to keep arts education in the U.S. when they play this mobile app game by Good World Games.
Health – Cancer survivor support and anti-smoking campaigns were two of the social good health themes. To give cancer survivors hope, Beat Liver Tumors walked the red carpet on Oscar Sunday at "Night of 100 Stars." The Goody Awards caught up with the group getting makeup and hair done at the Radisson Hotel LAX. Each survivor and caregiver wore red carpet gowns donated by Fashion Designer Dalia MacPhee, who personally chose the dresses. Beat Liver Tumors Founder Suzanne Lindley shared, "It's important to show that we are living with, not dying from, metastatic cancer and with a night full of glitz and glamour, there was no better way to do just that!!"
Nicoderm also had an anti-smoking campaign at the GBK Gifting Suite in Beverly Hills, CA, at the Soiftel Hotel. Many celebrities, including Wayne Knight signed the Pledge to Quit board by NicoDerm and Nicorette. The brand donated $10,000 to the campaign for Tobacco-Free Kids to educate youth not to smoke. Nicodermcq.com
Women Empowerment – With a record number of 45 female Oscar nominees, women empowerment was another big theme. The Goody Awards covered Oscar Winner Octavia Spencer cheering on the 2013 female nominees at the Women In Film Pre-Oscar Party on Friday night. In addition, The Artisan Group for female artists was featured at the GBK Gifting Suite. Founded by a graphic artist named Valerie Guerrero to support female artists, there are over 800 companies as members, and 98% are women owned businesses. This group gave amazing gift bags with handmade jewelry, soaps and hats. Zoe and Piper is one of the members who gave jewelry with a conscious, where part of the proceeds are donated to animal sanctuaries and advocacy groups. http://www.theartisangroup.org
Goody Awards Tweeted:
Eco Goody Award tweeted - Thank you @HelenHunt for rallying for @GlobalGreen at Pre-Oscar Party! #Oscars #HelenHunt #EcoGoody #GoodyAwards http://ow.ly/i5kMM
Good Deed Goody Award tweeted - Thx @RexLee for fun #Oscars interview and Charades for Good @TheCreativeC talent shoot #GoodDeedGoody #GoodyAwards http://ow.ly/i7gIZ
Hero Goody Award tweeted - I nominate @BeatLiverTumors for a #HeroGoody #GoodyAwards for organizing 12 cancer survivors to walk red carpet at #Oscars #Nightof100Stars
Team Goody Award tweeted - Wow, @WIF_LosAngeles Pre-Oscar Party was no small feat! #TeamGoody #GoodyAwards http://t.co/lAr4cXWmfa
About Goody Awards
The Goody Awards does Social Good Awards via social media, special events and cause marketing campaigns in four key areas: women empowerment, health, environment, and education. To support causes and recognize good, the Goody Awards does pro bono PR for charities tied to Special Awards year-round. Anyone can tweet a shout out thank you at anytime via social media by including #HeroGoody #EcoGoody #TeamGoody #TeacherGoody and #GoodDeedGoody. CEO/Founder Liz H Kelly has built advertising campaigns and recognition programs for Fox Interactive Media/MySpace, Paramount Pictures, and the first Sprint PCS / Sprint Spectrum. Global Media Experts, Actors, Producers, Mobile Leaders and Philanthropists are on the Goody Awards Advisory Board. http://goodyawards.com