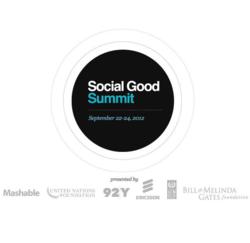 This nomination reminds us that an innovative spirit of partnership has helped make the Social Good Summit a success.
Washington D.C. (PRWEB) September 10, 2012
As anticipation builds for the 2012 Social Good Summit, this annual event and the founding partners of the original 2010 edition, were recognized as a finalist for this year's PR News' Platinum PR Awards.
Every September, the opening of the United Nations General Assembly signals the beginning of UN Week as world leaders convene in New York City to address global challenges. To build support for this dialogue and open up the conversation to a global, digitally connected audience, the Social Good Summit has brought together a unique group of partners, innovators and world leaders since 2010. In addition to world renowned experts on how technology and social media can help address global challenges, this annual event gives people everywhere access to the types of conversations being had simultaneously at the UN General Assembly and through social media, promotes their voices and ideas for how to solve our world's biggest problems.
"This nomination reminds us that an innovative spirit of partnership has helped make the Social Good Summit a success," said Aaron Sherinian, Vice President of Communications and Public Affairs at the United Nations Foundation. "The Social Good Summit brings together a truly global community, giving everyone a seat at the table in the discussion of the greatest challenges of our time. But it isn't enough to talk about these issues...social media is helping drive action and share knowledge so we can help create a better world. "
Preparations are underway for the 2012 Social Good Summit, held this year from September 22nd – 24th in New York, as part of a partnership with Mashable, 92nd Street Y, the United Nations Foundation, Ericsson, the United Nations Development Programme (UNDP) and the Bill and Melinda Gates Foundation. In addition to a unique 3-day program held at 92nd Street Y, the 2012 Social Good Summit will launch the Global Conversation – designed to be the world's largest conversation on how technology can address challenges in local communities. The Global Conversation will take place on Monday, September 24th in hundreds of communities around the world, with a special series of large-scale gatherings starting in Beijing, then moving to Nairobi, and ending in New York City. The goal is to create a 24-hour conversation on the world's biggest issues and how technology and social media are creating solutions. While these three cities will serve as the hubs for the Global Conversation, gatherings – both virtual and in person - will happen as part of meet-ups in communities large and small.
Awardees for the PR News' Platinum PR Awards will be announced on September 14th in New York City.
For more information on this year's Social Good Summit, visit http://www.socialgoodsummit.com.
Tweet this: Congrats @Mashable @unfoundation @92Y on the @PRNews Platinum PR Awards nomination! Keep up the momentum 4 this yrs summit #SGSGlobal
###
About Mashable: Mashable is a leading source for news, information and resources for the Connected Generation. Mashable reports on the importance of digital innovation and how it empowers and inspires people around the world. Mashable's 20 million unique visitors and 6 million social media followers have become one of the most engaged online news communities. Founded in 2005, Mashable is headquartered in New York City with an office in San Francisco.
About 92nd Street Y: 92nd Street Y is a world-class nonprofit community and cultural center that connects people at every stage of life to the worlds of education, the arts, health and wellness, and Jewish life. Through the breadth and depth of 92Y's extraordinary programs, we enrich lives, create community and elevate humanity. More than 300,000 people visit 92Y's New York City venues each year, and millions more join us through the Internet, satellite broadcasts and other digital media. A proudly Jewish organization since its founding in 1874, 92Y embraces its heritage and enthusiastically welcomes people of all backgrounds and perspectives.
About the United Nations Foundation: The United Nations Foundation builds public-private partnerships to address the world's most pressing problems, and broadens support for the United Nations through advocacy and public outreach. Through innovative campaigns and initiatives, the Foundation connects people, ideas, and resources to help the UN solve global problems. The Foundation was created in 1998 as a U.S. public charity by entrepreneur and philanthropist Ted Turner and now is supported by global corporations, foundations, governments, and individuals.
About Ericsson:Ericsson is the world's leading provider of communications technology and services. We are enabling the Networked Society with efficient real-time solutions that allow us all to study, work and live our lives more freely, in sustainable societies around the world. Our offering comprises services, software and infrastructure within Information and Communications Technology for telecomoperators and other industries. Today more than 40 percent of the world's mobile traffic goes through Ericsson networks and we support customers' networks servicing more than 2.5 billion subscribers. We operate in 180 countries and employ more than 100,000 people. Founded in 1876, Ericsson is headquartered in Stockholm, Sweden. In 2011 the company had revenues of SEK 226,9 billion(USD 35.0 billion). Ericsson is listed on NASDAQ OMX, Stockholm and NASDAQ, New York stock exchanges.
About UNDP: The UN Development Programme partners with people at all levels of society to help build nations that can withstand crisis, and drive and sustain the kind of growth that improves the quality of life for everyone. On the ground in 177 countries and territories, we offer global perspective and local insight to help empower lives and build resilient nations.
About the Bill & Melinda Gates Foundation: Guided by the belief that every life has equal value, the Bill & Melinda Gates Foundation works to help all people lead healthy, productive lives. In developing countries, it focuses on improving people's health and giving them the chance to lift themselves out of hunger and extreme poverty. In the United States, it seeks to ensure that all people—especially those with the fewest resources—have access to the opportunities they need to succeed in school and life. Based in Seattle, Washington, the foundation is led by CEO Jeff Raikes and Co-chair William H. Gates Sr., under the direction of Bill and Melinda Gates and Warren Buffett.