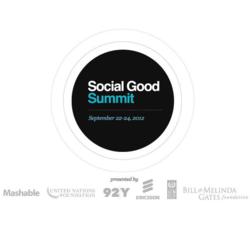 New York, NY (PRWEB) September 21, 2012
WHAT:
The 2012 Social Good Summit, the annual event hosted during UN Week, kicks-off this weekend in New York City, featuring conversations from September 22nd to 24th on how social media and technology can help solve the world's biggest challenges. Bloggers, celebrities, world leaders, youth leaders, CEOs, non-profits, UN officials and people around the globe will unite, in-person and online, around one goal: unlocking the potential of social media and technology to make the world a better place. While an audience gathers at the 92nd Street Y in New York, and during special events in Beijing, Nairobi, and in hundreds of meet ups around the world, people everywhere can watch the event through livestream and simultaneously join the conversation on social media with counterparts across the globe by using the hashtag #SGSGlobal.
WHEN:
September 22 – 24, 2012 (Sat. & Sun. 1 pm – 6pm ET; Mon. 11am – 6pm ET)
WHO:
A very strong roster of high-high profile industry leaders, experts and celebrities attending this year's event continues to grow people including Secretary of Homeland Security Janet Napolitano, Ambassador Susan Rice, Actress Maria Bello, Founder of the Grameen Bank and 2006 Nobel Peace Prize Winner Muhammad Yunus, Former Prime Minister of Norway Gro Brundtland, Actress Mira Sorvino, Olympian Allyson Felix, Executive Director of UNICEF Tony Lake, and Singer-Songwriter Angelique Kidjo and a special video message from Former U.S. Vice President and 2006 Nobel Peace Prize Winner Al Gore.
WHERE:
92nd Street Y, 1395 Lexington Avenue, New York, NY 10128
Livestream available at: http://mashable.com/sgs/
HOW:
Join the conversation online with the hastag #SGSGlobal.
EDITORS NOTE: (Potential Opportunity to interview speakers on a case-by-case basis)
For more information about this year's summit visit, This year's event, hosted by Mashable, 92Y, United Nations Foundation, Ericsson, United Nations Development Programme, and the Bill & Melinda Gates Foundation, is bigger than ever and will feature a global conversation that asks people to upload and share ideas, innovations, and ways technology is helping solve problems in their communities.
CONTACTS:
Kaitlyn Rawlett
Burson-Marsteller
230 Park Avenue South | New York, NY 10003 | kaitlyn(dot)rawlett(at)bm(dot)com
P: 212.614.4164
M: 646.506.5847
Darley Tom
United Nations Foundation
1800 Massachusetts Ave. | Washington, D.C. 20036 | dtom(at)unfoundation(dot)org
D: 202.496.6384
C: 914.310.8737