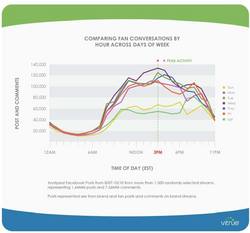 Managing Your Facebook Community: Findings on Conversation Volume by Day Hour and Minute
Atlanta, GA (PRWEB) October 28, 2010
Vitrue, the leading provider of social media publishing software, revealed today new data that focuses on the "when" behind Facebook posts and comments, providing marketers a guideline for the best times to engage with their communities. The white paper titled, "Managing Your Facebook Community: Findings on Conversation Volume by Day Hour and Minute", reveals new research which examines conversational volume generated by brands and fans of brand pages, including peak times and patterns. The new findings continue Vitrue's leadership of applying real-world analytics to determine effective Facebook publishing best practices.
"A post, made by a brand or a fan of a brand, is the beginning of a significant conversation opportunity for all marketers," said Reggie Bradford, CEO of Vitrue. "Planning resources and tools to listen, answer, and moderate these posts is a critical need for every marketer today. Several findings we are releasing in this white paper show that today's proverbial water cooler is no longer offline at the office, but online at Facebook."
White Paper: The complete white paper is available free for download here
Vitrue delivers messages, content and applications to more than 300MM fans or followers through its Social Relationship Management (SRM) Platform for a wide-range of clients. For this white paper, we analyzed Facebook posts from August 10, 2007 to October 10, 2010 from more than 1,500 selected brand streams representing 1.64MM posts and 7.56MM comments. This data does not represent all Facebook posts made by a user, but actions made by brands and fans on a brand's post to their news feed.
The data reveals how fans and brands conversational volume follows both time zones and daily behavioral patterns throughout the workweek. Below are a few key takeaways from Vitrue's newly released study:

Overall there is significant and continuous conversation volume throughout the day, starting at 8am EST to 5pm PST, with 3pm EST being the peak;
All the days of the typical work week, Monday through Friday, share a very similar pattern of high volumes of conversation, with Wednesday being the peak; and
Weekend activity is dramatically different with lower post activity from fans and brands on Sunday versus all other days.
About Vitrue: Vitrue is the leading provider of social media publishing software focused on providing solutions for optimal social media communications across the vast social web. Anchored by its industry-leading Vitrue Social Relationship Management (SRM) Platform, Vitrue works with marketers of all sizes, from global brands to local businesses, as well as agencies large and small, to deliver a comprehensive solution to manage, measure and maximize value across Facebook, Twitter and other social environments. The Vitrue SRM Platform's four main components—Vitrue Tabs, Vitrue Publisher, Vitrue Apps and Vitrue Mobile—deliver powerful creative, publishing, applications, measurement and mobile tools in a web-based interface. The Vitrue SRM is currently managing over 2,000 Pages including brands such as McDonald's, Best Buy, Kellogg Company, AMC Theatres, Project (RED), 3M, Harley Davidson, Mentos, Dick's Sporting Goods, Crocs, Eddie Bauer, Maybelline, Denver Broncos, University of Texas Athletic Department, and Purina to name a few.
Headquartered in Atlanta with offices in New York, Chicago, Cincinnati and San Francisco, Vitrue is a Facebook "Preferred Developer Consultant" and has received numerous industry accolades including the Red Herring Global 100 and OnMedia 100. For more information, visit vitrue.com.
CONTACT: Gretchen Miller: gretchen(at)vitrue(dot)com; 404-478-8340
###