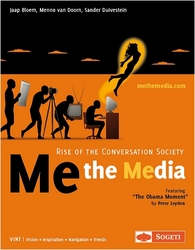 There are many, many hot topic issues on the impact of technology in public sector and private sector organizations. This conference will bring together a global conversation. I'm honored to be participating
(Vocus) July 16, 2009
Dayton, OH July 15, 2009: Sharing insights on how companies can effectively leverage social media in business, Menno van Doorn will be a featured speaker at the WorldFuture Conference on Saturday July 18, 2009 at the Chicago Hilton.
Menno Van Doorn, one of the authors of "Me The Media: The Rise of the Conversation Society", will discuss topics from the book on how today's personal media tools are transforming communications and how companies market their products and services. With web 2.0, the anonymous public has emerged as a part of every organization's business model and is rapidly impacting branding, product development, service benchmarks and even market valuation. Organizations accustomed to only traditional communications to the public rather than conversing with it are suffering the aftershocks of this new reality.
Van Doorn will share real examples of the best and worst practices and will examine how organizations can make improvements in their business. "There are many, many hot topic issues on the impact of technology in public sector and private sector organizations. This conference will bring together a global conversation. I'm honored to be participating," said van Doorn, director of VINT, the Sogeti Research Institute.
The WorldFuture Society is a nonprofit, nonpartisan scientific and educational association of people interested in how social and technological developments are shaping the future.
About VINT
VINT, which stands for Vision, Inspiration, Navigation and Trends, is an international research group and was established in 1994. VINT was created to closely analyze industry trends and the latest technologies to help gain important insights and best practices that could easily translate and be used in public and private sector organizations.
About Sogeti Group
Sogeti is a leading provider of professional technology services, specializing in Application Management, Infrastructure Management, High-Tech Engineering and Testing. Working closely with its clients, Sogeti enables them to leverage technological innovation and achieve maximum results. Sogeti brings together more than 20,000 professionals in 14 countries and is present in over 200 locations in Europe, the US and India. Sogeti is a wholly-owned subsidiary of Cap Gemini S.A., listed on the Paris Stock Exchange.
For more information please visit http://www.sogeti.com.
About Sogeti USA
Sogeti USA is a premier provider of information technology services to businesses and public-sector organizations. Operating in 24 U.S. locations, Sogeti's business model is built on providing customers with local accountability and vast delivery expertise. Sogeti is a leader in helping clients develop, implement and manage practical IT solutions to help run their business better. With over 40 years of experience, Sogeti offers a comprehensive portfolio of services including Enterprise Microsoft Solutions, Enterprise Solutions Consulting, High Tech Consulting, IBM and Open Solutions and Testing/Quality Assurance.
For more, visit http://www.us.sogeti.com.
###