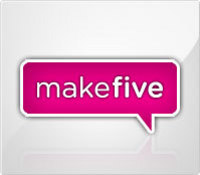 You are what you think.
Vancouver, BC (PRWEB) December 11, 2007
What should George W. Bush do upon leaving office? Which TV shows of the 80s are the most memorable? Who are the top contenders for the Stanley Cup? The creators of MakeFive (http://www.makefive.com) believe questions like these provide a better way to connect with others.
"Facebook is a great utility," notes Eric Karjaluoto, one of the creators of MakeFive, "that being said, it's not a great forum for dialogue." With this in mind, he, and business partner Eric Shelkie, started to build a social network to address this concern. Their new site, MakeFive, is already seeing interest from early adopters.
The premise behind the site is simple: Share your opinions by making top-five lists on any topic. "It's a great way to get new ideas," explains MakeFive user Wil Arndt, "I've already used it for community-based movie feedback and to find suggestions on good breakfast places."
MakeFive launched to a small group of users early this month, which allowed the development team to test the waters. "We wanted to build the site in an iterative fashion," Eric Shelkie explains, "our users are telling us what they like and don't like, and we're using this feedback to build the site around them." As a result, users are seeing the site change and improve on a daily basis.
The site's creators are banking on the notion that whether serious or silly, people are interested in discussion. As such, the new sites' tagline is, "You are what you think." Now the question is whether users will think it's a good way to spend their time.
Visit the site at: http://www.makefive.com
About MakeFive
MakeFive allows you make a top five list for anything. It's an easy and fun way to start discussions, share ideas and engage in debate. MakeFive is founded by award-winning interaction design studio smashLAB (http://www.smashlab.com).
Press Contact:
Peter Pimentel
604 683 2250
# # #