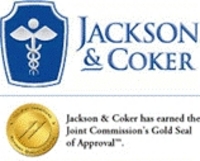 Jackson & Coker is on the forefront of researching and adopting social media outlets as integral aspects of physician recruitment and other company functions
Alpharetta, GA (Vocus) October 8, 2009
"Jackson & Coker is on the forefront of researching and adopting social media outlets as integral aspects of physician recruitment and other company functions," says company president, Sandra Garrett.
"Compared to our competitors, we are a bit ahead of the curve in exploring avenues for using Healthcare / Web 2.0 technology to augment efforts to connect outstanding providers with healthcare employers--and to disseminate valuable information to the medical community on the whole," she adds.
Ms. Garrett notes that Jackson & Coker's home page (http://www.jacksoncoker.com)] provides links to Facebook, LinkedIn, and YouTube and that the most recent edition of the company's newsletter offers in-depth analysis of social networking for hospitals and healthcare providers.
The Jackson & Coker Industry Report (http://www.jacksoncoker.com/physician-career-resources/newsletters/default.aspx)] features an article entitled "Hospitals Engage in Social Media Networking." It points out a number of interesting facts concerning the growing, widespread usage of social media by hospital communications departments, namely:

To date, over 367 hospitals have established accounts with Facebook, Twitter and/or YouTube, and the usage of these sites is growing exponentially
A number of hospitals feature blogs by their CEOs whose intent is to personally shape the message their institutions wish to communicate to staff, patients and the medical community at large.
Increasingly, social media is a valuable resource in physician recruitment. Physician recruiters can more readily identify web-savvy candidates who are connected to social media sites.
Twitter facilitates real-time sharing of news, general information, medical research and important hospital events. Followers can also track the daily activities of physicians and other key personnel.
LinkedIn allows hospitals to tap an expansive network of medical practitioners and educators who can benefit from learning more about what the institutions offer patients and the communities they serve.
Facebook permits hospitals to craft their unique organizational exposure in cyberspace that advances their mission of promoting quality health care.
By creating a YouTube channel, hospitals can capture important events and disseminate information with a strong visual appeal.
Eric Jaquith, co-author of this article and business consultant, comments: "Social media networking is the leading force shaping how hospitals communicate their message to internal and external constituencies, and serves as an easy-to-use tool for physicians who want to stay connected to colleagues and promote themselves within their profession."
Another article in the same publication issue, entitled "Social Networking for Physicians," offers helpful advice for doctors who increasingly recognize the value of being connected by web and digital technology to their professional colleagues.
Furthermore, social networking facilities job hunting, the article discusses, due to the ease and convenience it offers busy job seekers who look for creative ways to manage their employment search. Specific job-hunting advice is mentioned in regard to prudent use of LinkedIn, Facebook, Twitter and other popular websites, such as physician blogs.
Robyn Melhuish, Communications Manager with Healthcare Job Boards, who penned the article, explains: "It's not a question of whether physicians should include social media as part of their job search efforts or broader professional networking; it's really a matter of maximizing the effectiveness of using such tools to increase their industry visibility and promote their career."
Other articles in the publication discuss practical applications of the use of social media within the health care profession, such as in the hospital emergency room.
This edition of the Jackson & Coker Industry Report can be accessed here.
About Jackson & Coker
Headquartered in metro Atlanta, Ga., Jackson & Coker is a leader in the physician recruitment industry. With over 31 years of continuous business operations, the firm has earned a reputation for providing cost-effective, time-sensitive staffing solutions to both government and commercial health care organizations. The firm has two divisions: Retained Search, which places doctors in over 40 medical specialties in permanent positions, and Locum Tenens, which fills temporary staffing vacancies.
Jackson & Coker has earned a "Gold Seal" designation as a "Certified Health Care Staffing Service" by the Joint Commission and is affiliated with a Credentials Verification Organization (JH CVO) that has received certification by the NCQA in ten out of ten credentialing elements.
For more information:
Edward McEachern
Vice President
Jackson & Coker
678-277-3030
# # #