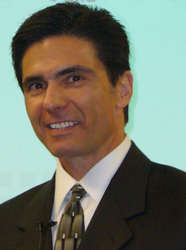 Marketing 2.0: Bridging the Gap between Seller and Buyer on the Social Web
Palm Harbor, FL (PRWEB) April 24, 2009
Bernie Borges, Founder and CEO of Find and Convert, an Inbound Marketing Agency, along with Paul Tash, Chairman, CEO and Editor of Times Publishing Company and Michael Pumo, President of Media General's media affiliate WFLA spoke to 230 Tampa Bay business leaders at University of Tampa Business Symposium on April 22nd. Mr. Borges, Mr. Tash and Mr. Pumo each addressed the effect of new media in their respective businesses and how the Internet and social media are being driven by consumer and advertiser behavior.
Bernie Borges is an author, consummate blogger, podcaster, guest writer, national speaker and recognized authority on Internet and social media marketing strategies. Borges shared excerpts from his new book, "Marketing 2.0: Bridging the Gap between Seller and Buyer on the Social Web" and discussed practical advice in how to develop social media marketing strategies that answer the question, "Show me the money." Borges' book, due for release in June, offers decision-makers an "old school meets new school" approach for implementing measurable Inbound marketing and social media strategies.
"I am delighted and honored to have been invited to be one of the speakers at the most recent UT Business Network Symposium," said Bernie Borges, CEO, Find and Convert. "It's clear to me that everyone is interested in understanding the effect of new media on their business. The executives with whom I shared the stage offered their views, some of which aligned with my views and some did not. I elaborate on our different views on my blog and invite comments and discussions by visiting my blog to join this conversation."
"I was intrigued by the differing perspectives on social media," said Synthia Laura Molina, Managing Partner of Central IQ. "Borges was both a strategist and a bottom line guy who explained the financial, market, and operational implications of new media for businesses. Pumo offered a great media conglomerate view, describing the benefits of adjusting organizational strategies to respond to advertiser (customer) demands. Tash was an intellectual who suggested that the lifecycle of traditional print media like newspapers and magazines would, at best, parallel consumption preferences of consumers--but that print in some form might yet survive. Contrasting views were apparent and I plan to follow the ongoing conversation on Bernie's blog at Find and Convert."
Three times a year the University of Tampa's Board of Fellows hosts a Business Networking Symposium for Tampa Bay business leaders featuring guest CEO speakers by invitation discussing issues of local economic importance. University of Tampa's Board of Fellows was established in 1973 and serves as goodwill ambassadors that strengthen the University's relationship with the Tampa Bay business community.
Bernie Borges leads a team of Inbound marketing agency experts that help small and medium businesses develop winning strategies that achieve their Internet marketing goals and objectives. Find and Convert specializes in search optimization - search engine optimization (SEO) | social media optimization (SMO) | pay per click (PPC) advertising / search engine marketing (SEM) - social media marketing - content marketing and aggressive web analytics that help their clients achieve measurable results.
Get social with us. Follow Bernie and the Find and Convert team.
###