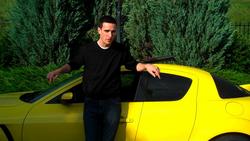 Many have said that social media is changing the way that we do business... but they're wrong
Salt Lake City, UT (PRWEB) July 9, 2009
For many, the idea of a cross continent road trip makes us cringe, but that's not the case for Joseph Ranseth, a 30-year-old entrepreneur and social media 'evangelist'. He's out to disprove the notion that technology distances us as a culture, and he's traveling the distance to prove it.
Just this past April 2009, Joseph set out on a road trip from Phoenix to Toronto. Using his cell phone to connect with 1,000's through Facebook & Twitter, Joseph encouraged his "friends" to connect with him along the way. He even went so far as to post his cell phone number to the two social media sites.
Through that simple outreach, Joseph was flooded with text messages from all over the world... forming connections on every continent! The response was so overwhelming - and so confirming of his conviction that social media has the power to transform our world - that he has set out on a North American Social Media Adventure. By holding events along the way and preaching his message of the power of Social Media, he hopes to show people how to transform their businesses as well as their personal relationships.
Watch for this social media 'evangelist' and his shiny yellow car as he hits a city near you! Cities currently on his itinerary are: Salt Lake City, Denver, Phoenix, Houston, Atlanta, Miami, Raleigh, NYC, Washington D.C., Los Angeles, Chicago, and St. Louis.
"Many have said that social media is changing the way that we do business... but they're wrong," said Joseph in a recent interview. "Social media it is the expression of how our approach to business and relationships has evolved."
He goes on to preach, "Many have argued that technology distances us, but I am optimistic and extremely confident that the evolution of Web 2.0 is leading us toward creating genuine, authentic and in-person relationships. In fact, I know it." Joseph's mission is to open people's eyes to how they can use social media to transform their business & personal lives.
Joseph is chronicling his adventure online and encourages the world to join him on his journey, which can be discovered at SocialMediaAdventure.com. The site, which will evolve as the trip progresses, will include daily blog and video posts, a map of Joseph's trip for fans to follow him, and a number of ways the world can participate in the adventure.
Joseph Ranseth is a pioneer in the Internet and social media marketing fields. He founded the vine multimedia inc, a highly successful New Media Marketing Agency based in Winnipeg, Canada, in 2003 and travels the globe training large and small groups on techniques to use social media effectively. He was most recently featured on CBS Backstage Live.
For more information on Joseph Ranseth visit JosephRanseth.com. For more information on the Social Media Adventure go to SocialMediaAdventure.com.
###