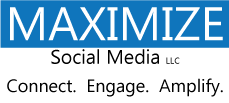 Los Angeles, CA (PRWEB) April 16, 2012
Social media agency Maximize Social Media LLC is pleased to announce that it will now offer Pinterest outsourced management services for businesses interested in using Pinterest to build brand awareness and foster new customers. Businesses interested in integrating Pinterest into existing efforts with Facebook, Twitter, LinkedIn, YouTube, or Google+ are asked to contact the firm for a strategy session to determine the best approach.
"Managing Pinterest for brands is a natural extension of what we are already doing at Maximize Social Media. By outsourcing Pinterest to our agency, a business will be able to tap into a well educated demographic that typically makes decisions on where money is spent for the household. We know that Pinterest's tremendous growth signals that more customers are going to discover new products and businesses while on Pinterest, and we want to ensure that our clients are where their customers are going to be," said Chris McLaughlin, CEO of Maximize Social Media LLC.
The social media agency believes that business should consider Pinterest management as part of a comprehensive social media campaign. While Facebook is still the central hub for any social media campaign, McLaughlin noted that there are differences between the user psychology of Facebook and Pinterest. Facebook itself is more situational. "With Facebook, users are typically communicating where they are located, what they are doing, and who they are friends with. But with Pinterest, the focus is typically more aspirational: where someone wants to be, what they would like to do, and who they would like to become," McLaughlin noted.
Not every business is a fit for Pinterest, but businesses selling retail items that have striking images will do particularly well. Room décor, furniture, recipes, jewelry, and food items are suggested areas that will gain traction among the existing Pinterest user base.
"We're excited to continue our efforts at helping companies build a strong social following online. As the enthusiasm for Pinterest continues to grow we know businesses that are ahead of the curve will benefit," said McLaughlin.
About Maximize Social Media LLC
Maximize Social Media (http://www.maximizesocialmedia.com) provides social media management services for clients in over 40 different verticals. With offices in Florida and Los Angeles, Maximize offers social media consulting and Facebook advertising management for clients in English speaking countries such as the US, Canada, and Australia. The company also features social media management outsourcing for busy social media mangers looking for additional assistance on a white label basis.