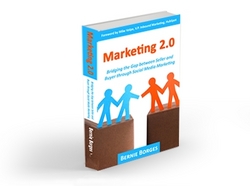 Buyers are in control now
Palm Harbor, FL (PRWEB) July 14, 2009
Bernie Borges, Founder and CEO of Find and Convert, an Inbound Marketing Agency, released his new book today, Marketing 2.0; Bridging the Gap between Seller and Buyer through Social Media Marketing. Mike Volpe, V.P. Inbound Marketing at HubSpot, wrote the foreword.
Borges wrote the book for business executives who seek to understand how to develop and implement social media marketing strategies. In his book, Borges sets the stage for the significance of the social web by describing the dramatic evolution of paradigm shifts in history such as the way music was once sold on records and CDs and now is sold mostly online as a download.
Similarly, Borges presents the case that marketers must adapt to an entire new way of marketing as a mindset. He refers to "marketing 1.0" as disruptive and interruptive. That mindset is alive but the results are on a rapid decline. "Buyers are in control now," says Bernie Borges. "They can easily ignore or filter out seller's marketing. More so, buyers turn to two sources when setting out to find a product or service they need to purchase: 1) the Internet and 2) other people's opinions." The social web allows buyers to seek out information about products and services with little influence by seller's advertising. Sellers must learn to engage buyers on their terms on the social web. Sellers must learn to build relationships with buyers early in the search process to win their trust. And, sellers must learn to be collaborators with their buyers.
Borges offers his reader a roadmap for creating a social media marketing strategy including the risks, benefits and staffing implications. He presents two primary pillars comprising a social media marketing strategy; content marketing and relationship building. Each of the major social media platforms is discussed in overview fashion including social networking, blogging, Twitter, video, photos and podcasting to help the reader understand the role each plays in content marketing and relationship building on the web.
Borges presents numerous case studies to help the reader digest examples of social media marketing in action. "I appreciated the fact these case studies were comprised of small and midsize companies," said Jason Atkins, CEO of 360incentives.com and one of the first to review Marketing 2.0. "Bernie did a fantastic job putting this book together. It's similar to a playbook that is full of strategies and tactics to bring your organization into the social web."
Marketing 2.0 is published by Wheatmark Publishing, of Tuscon, AZ. It is available at most online booksellers including Amazon and directly from Wheatmark's online store.
Borges will provide several forms of contact and content sharing with his readers through his Internet marketing blog where he regularly writes articles on best practices, success stories and occasionally controversial viewpoints, which stimulate conversation with his community. Additionally, Borges has begun to summarize his book on his podcast show and will also interview people who have been profiled in the case studies section. Borges also invites interaction on his Twitter account and his Facebook account where he interacts with his community on a daily basis.
About Bernie Borges
Bernie Borges is founder and CEO of Find and Convert, an Inbound marketing agency that helps small and medium size businesses develop and implement winning strategies on the web. Find and Convert specializes in search engine optimization (SEO), social media optimization (SMO), pay per click (PPC) advertising / search engine marketing (SEM), content marketing and web analytics that achieve measurable results for a national client base. Borges maintains a blog and a podcast show on Internet marketing strategies and is a frequent speaker at conferences and private events.
Contact:
Bernie Borges, CEO Find and Convert
888-660-1981
36181 East Lake Road, Suite 188
Palm Harbor, FL 34685
###