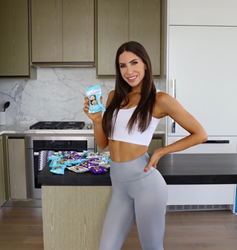 Jen is an expert in aggregating a massive audience of like minded people that care about fitness, health, food and lifestyle ages 18-35...She is a true Unicorn! -Morgenstein
NEW YORK (PRWEB) May 14, 2019
Jen Selter, one of the world's largest social media influencers on platforms such as Instagram, Facebook, Snapchat and TikTok launches her first signature food product, the Jensta. Selter's protein bar is a premium product featuring high protein and low fat ingredients. As part of the product development, Selter flew to Riveria, Florida to meet with her business partners and manufacturer Smart for Life to specially design the flavor and ingredients for her signature bar. Selter's passion for providing her fans with the best products at an incredible price continues with her Jensta Bar which comes in three (3) flavors; S'mores, Dark Chocolate, and Peanut Butter.
Each flavor was picked with the help of Selter's fan base through an exhaustive process of sharing the bar and asking questions about the taste, packaging and the name of the product. Selter found that her interaction with her fans led to a real interest in her developing this line of protein. Selter loves the interactive process with her fans, stating, "I never realized how much my fans wanted to be involved with this process. The Jensta Bar is a passion of mine and to see so many of my fans sharing ideas on their fav flavors and ingredients is so rewarding. I wanted to develop a healthy and nutritious product that everyone can afford." The Jensta bar is being sold at jenstabar.com. The price of individual bars are $3.00 and for a special package of 6 with two of each flavor or 6 of one flavor the price is $7.99.
Ron Cohen, Managing Director of Smart for Life is very intrigued by his company's partnership with Selter: "When we first started discussing this product line with Jen we were confident it would sell. What we didn't realize was the massive demand Jen has created naturally and authentically through her communication with her fan base and how interactive they have been in the development process. We always say the best product lines are the ones the consumers are asking for." Selter is planning a launch party for Jensta on May 20, 2019 in New York City. The exact location is not being announced until the morning of the event by Selter via her social media. The idea is to create a huge organic event without having to go to the expense of hiring a production company. Selter's agent, Evan Morgenstein of Premier Management Group, sees this as a massive opportunity, "Jen is her own media company. We don't have to go and hire a PR firm. Jen is an expert in aggregating a massive audience of like minded people that care about fitness, health, food and lifestyle, ages 18-35. No one in the world has the potential to be the next great fitness leader globally like Jen does. She is a true Unicorn!"
Selter's holdings include @jenselter on Instagram, Facebook and SnapChat and many massively successful Instagram accounts such as @couplegoals, @motivationforfitness, @thatbikini, @gymlooks and @idreamaboutfood to name a few. The footprint that Selter's social media holdings creates in the market is second to none. Visit @jenstabar to see consumers and fans of Jen's bar share their true life stories via pictures and videos.
For more information on booking Jen Selter or discussing partnerships, contact Evan Morgenstein President of Premier Management Group at evan(at)pmgsports(dot)com or call 919-332-0584