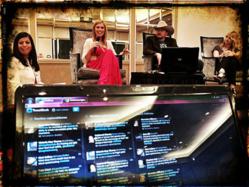 "For me it was the perfect conference... great sessions, places, and spaces to hang out and connect with old friends or new ones when not attending a session. I enjoyed the flexibility to be as involved (or not) as I wanted."
- Mandy Vavrinak
Tulsa, OK (PRWEB) April 06, 2012
The 2012 Social Media Tulsa Conference was extended to two days, March 15-16, 2012, and hosted attendees from Colorado, Virginia, Illinois, Missouri, California, Arkansas, Texas, and all areas of the state of Oklahoma. Many of the conference sponsors were in attendance or actively participated virtually by tweeting along with the attendees before, during, and after the conference.
Tulsa's own Cherry Street Studios covered the conference, using sophisticated Livestreaming and video equipment, while Captured Charms Photography was on hand to capture the charm of the conference. If it appears that the entire conference was Streamed, Tweeted, Google plussed, Facebooked, and recorded, credit the opening comment from organizer, Cheryl Lawson, "Please do not turn off your phones" and the exclusive screening of the Twitter documentary, 'Twittamentary'.
Tweets from #SMTulsa conference reached over 359,000 people worldwide. Even the fire alarm that took the entire conference outside on the streets of downtown Tulsa was an opportunity for attendees to brush up on their social media chops.
More than fun and games, #SMTulsa conference went beyond typical social media buzzwords and talking heads. Speakers, attendees, and exhibitors were drawn to explore, connect, and to share their ideas and best practices.
"I learned so much, and met some really great people. The conference didn't just talk about social media. It provided tools, ideas, and inspiration on how to utilize social media to further you in your life, business, hobbies, and interests. I'm going to pass along what I've learned to others." - Stephen Cale
"Every part of the conference from the unique seating throughout the meeting space to the social shower curtain were designed to set the tone that #SMTulsa conference would be a different experience," said Cheryl Lawson of Party Aficionado and Founder of Social Media Tulsa. "I wanted everyone to walk away from Social Media Tulsa Conference, inspired, motivated, and armed with new connections and friends. I think we succeeded."
"For me it was the perfect conference... great sessions, places, and spaces to hang out and connect with old friends or new ones when not attending a session. I enjoyed the flexibility to be as involved (or not) as I wanted." - Mandy Vavrinak
"For the second year in a row, I've learned so many valuable ways to use social media to reach more people for our non profit endeavors. I brought others with me this year - because there is SO much information to soak in - more ears were better than my two. GREAT CONFERENCE!" - Judi Grove
Cheryl is already reviewing requests for 2013 #SMTulsa conference keynotes, breakout sessions, and sponsors, and she will be making announcements in the coming months. In addition, the 2013 conference is already generating significant interest as pre-sale tickets for next year's conference went on sale last week.
About Social Media Tulsa
Social Media Tulsa is the area's most active social media group. #SMTulsa has rapidly become the place for thought leaders and newbies alike to share social media's best practices while at the same time going beyond the technology to create face to face connections. It all began with Social Media Day Tulsa 2010 at Fat Guys Burger Bar in the historic Greenwood district. Social Media Tulsa holds monthly Meetups, Tweetups, and participates in several community projects. To learn more, visit SocialMediaTulsa.org
About Party Aficionado
Party Aficionado, LLC is a leading social marketing firm specializing in event marketing, social media marketing, internet marketing, and PR. #SMTulsa conference is a project of Party Aficionado. To learn more visit http://Partyaficionado.com.