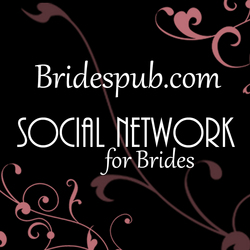 "Bridespub.com is the perfect social network for brides to meet other women who are going through the same pre-nuptial rituals."
Detroit, MI (PRWEB) February 9, 2011
Bridespub.com has become a leader in the bridal industry by offering a comprehensive social networking aspect to its site. The new design features a home page that provides status updates of all of the bride's friends and allows her to leave comments on pages and respond. An individualized profile page, which features a Photo Gallery, also allows brides to keep track of wedding details, view friends' websites and blogs, request friendships, see a friend list, post messages on a friend's wall and send private messages.
"Many of today's brides use the Internet to plan and share details of their weddings," says Kerry Sullivan, owner and publisher of Bride + Groom Publications/Expo. "Bridespub.com is the perfect social network for brides to meet other women who are going through the same pre-nuptial rituals."
Sullivan will officially unveil the website during the Novi Bridal Expo, Feb. 12-13 at the Suburban Collection Showplace (formerly Rock Financial) in Novi, Mich.
Nationwide in 2010 an estimated 2.1 million weddings took place and 61 percent of engaged couples reported using the Internet to find wedding vendors.* Bridespub.com builds upon this trend by marrying time management and the Information Age. The password-protected site allows brides to log in and keep track of essential wedding details such as guest information, RSVPs, gifts, thank you notes, out-of-towners, reception seating, announcements, parties, budget (overview, payments and balances) contracted merchant info (terms, notes, appointments, etc.), time frame, helpful tips and much more.
Bridespub.com also allows brides throughout the country to shop area merchants and locate local bridal shows. Advertisers can list their services in local markets for free or choose from a variety of paid advertisement opportunities.
Alerting family and friends of wedding details is made simple on Bridespub.com with a personalized website and blog already in place. And when brides want to make new friends, ask questions, create polls or trade tips, they head to the Pub Chat message board.
"Brides have a sisterhood," Sullivan says. "Bride-to-bride they understand each other."
To learn more, go to bridespub.com.
Bride + Groom Publications first appeared in 1992 as a bridal workbook/magazine created by former Metro Detroit resident Kerry Sullivan. Her workbook transcended to an online interactive bridal planner, Bride's Pub, in 2008. Sullivan and her company are now based in Sarasota, Fla.
# # #