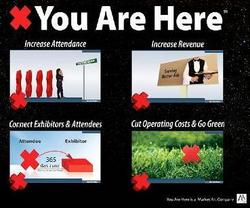 AARP is dedicated to adding more value to our National Member Event and Expo -- Vegas@50+. We want to create an environment that is not only more engaging, more interactive, and which builds a stronger sense of community around the event -- we want it to be accessible 24/7/365
Alexandria, VA (PRWEB) August 20, 2009
MarketArt announced today that social networking will be a driving force behind event marketing efforts for the AARP National Event & Expo, Vegas@50+. As part of a multi-year event marketing agreement, MarketArt will integrate You Are Here, its interactive map, directory and marketing system, with the event's own website to create a vibrant, year-round marketplace for AARP members and exhibitors.
This years' annual AARP conference will be held October 22-24, in Las Vegas and expects to attract over 30,000 attendees and 500 exhibitors. Vegas@50+ is the world's most comprehensive forum for health, fitness, finance, travel and lifestyle issues relevant to people 50 and over.
You Are Here is a comprehensive event marketing system that begins with the AARP Virtual Experience. Visitors to the event's website use an application with a highly graphic overview of the entire event designed to excite, educate and get them to register. Attendees and exhibitors get to create agendas, build micro-sites and connect before, during, or after the event. Powerful social tools give both attendees and exhibitors the ability to extend their own presence on the show site to friends, colleagues, prospects and customers they might want to contact. These tools are deployed in the users' own email, websites and social networks. The dynamic combination of users, tools and networks drives traffic to the user's own content on the system -- and to the event website.
"AARP is dedicated to adding more value to our National Member Event and Expo -- Vegas@50+. We want to create an environment that is not only more engaging, more interactive, and which builds a stronger sense of community around the event -- we want it to be accessible 24/7/365," said CB Wismar, Vice President AARP Events. "After seeing strong participation in You Are Here on the exhibit floor at last years' event, we decided that offering the information online and integrating its social and event marketing tools was great way to add value. You Are Here will help us drive attendance, enhance everyone's experience at Vegas@50+, and keep us all connected as we look forward to Orlando in 2010."
The You Are Here system will be deployed both on AARP's event website and on multiple touch-screen stations distributed throughout the event space itself. You Are Here on the Web gives AARP an all-new platform that enables better connection opportunities for members and the vendors who service them - both at the show and throughout the year. By building community, You Are Here helps ensure the association's ongoing relevance to all its members. At the event, the system helps attendees quickly find their way to the exhibitors, products and services of highest interest to them, and enables exhibitors to extend their reach, promote their offerings and attract qualified traffic to their booths.
About MarketArt - http://www.MarketArt.com
MarketArt is a digital media technology company that develops and sells interactive media and advertising systems to both online and to out-of-home markets. The company is the leading provider of electronic directories and media systems to the events and trade show markets with its You Are Here products.
You Are Here is an event marketing, exhibitor promotion and attendee information system for event managers, exhibitors and attendees. Its core is an interactive, map-based, directory and advertising platform used to build online marketplaces for associations and their members. You Are Here leverages user-content, search, social and digital media into a powerful event marketing 'magnet' that builds community and connects buyers and sellers year round.
The system is deployed both on a show's web site and on the show floor itself and is employed by many of the largest trade shows in the U.S. You Are Here can replace traditional printed materials and is especially important to environmentally 'green' shows. The company has offices in Alexandria, VA and Albany, NY.
About AARP Presents Vegas@50+
AARP is a nonprofit, nonpartisan membership organization that helps people 50+ have independence, choice and control in ways that are beneficial and affordable to them and society as a whole.
The 2009 National Event & Expo, scheduled from October 22-24, will be at the Sands Expo and Convention Center, Las Vegas, where the party never stops. You won't want to miss these three days and nights of concerts, celebrity speakers, engaging educational forums, hundreds of interactive exhibitors, giveaways, and much, much more. Meet up with old friends, bring the family, and make new friends. We'll show you a good time.
# # #