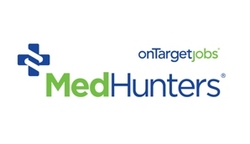 We are proud to partner with NurseTogether.com. The site's active nurse membership, engaging content and robust social media tools are a strong complement to our MedHunters brand
Denver, CO (Vocus) January 29, 2009
MedHunters, an onTargetjobs Inc. company and the leading niche job board for the professional nursing community, and NurseTogether.com, one of the world's largest free, online communities for nurses, have announced a strategic sales and co-marketing partnership in which NurseTogether.com will serve as the exclusive nursing social networking partner to MedHunters.com.
The agreement will provide registered members on MedHunters with free access to NurseTogether.com's wide variety of unique, informative content and social media tools to assist them in their professional and personal lives. Other benefits include special discounts to nursing supplies through the NurseTogether Scrub Store, powered by Tafford Uniforms. In addition, MedHunters.com advertising customers will be able to take advantage of NurseTogether.com's advanced social media tools to bring their nursing-related employment opportunities to thousands of qualified nurses.
MedHunters is also part of the HEALTHeCAREERS Network, offering access to more than 70 professional healthcare associations and hundreds of sites that are well-established in the nursing, physician, allied and professional administration communities.
"We are proud to partner with NurseTogether.com. The site's active nurse membership, engaging content and robust social media tools are a strong complement to our MedHunters brand," said Wes Crews, Executive Vice President and General Manager of Niche Markets at onTargetjobs, the parent company of MedHunters. "As the industry's leading provider of online career services to the healthcare community, we're always looking for ways to add value to our jobseekers and our customers. Our partnership with NurseTogether.com will enable nurses to easily connect, share experiences and cultivate career opportunities in a fun and engaging Web environment."
"NurseTogether.com was founded with a simple goal in mind -- to empower nurses globally by giving them the support and information they need, with a focus on the unique lifestyle issues facing the nursing community today." said Randy Holloran, Founder and Chief Operating Officer of NurseTogether.com. "We're very pleased that MedHunters, one of the most well-known and respected names in the healthcare community, has partnered with us to provide nurses with easy access to our content and services that support nurses worldwide."
About MedHunters
MedHunters specializes in providing the most sought-after nursing, physician and allied job seekers, a large selection of quality healthcare jobs as well as relevant, healthcare-industry news and content. MedHunters offers a full suite of advertising products that include Web site and association banners and healthcare specific eNewsletter ads. MedHunters is an onTargetjobs company and part of the HEALTHeCAREERS Network. For more information, visit http://www.medhunters.com and http://www.ontargetjobs.com.
About NurseTogether.com
Based in Orlando, Florida, NurseTogether.com is a unique, global, online community of nurses coming together for support, networking, advice, career growth and nursing advocacy. To learn more, visit http://www.NurseTogether.com.
About Tafford Uniforms
Tafford Uniforms is a leading manufacturer and retailer of nursing scrubs, accessories and footwear. For more than 20 years, millions of customers have trusted the Tafford brand for the best in styling, quality, customer service and value. For more information, visit http://www.tafford.com.
Press Contacts:
MedHunters:
Heather Sharp
Senior Manager Marketing Communications
720.833.7363
NurseTogether.com:
Steve Curtin
Vice President of Content Development
508.494.0776
# # #