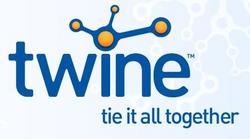 Web 3.0 is best-defined as the coming decade of the Web, during which time semantic technologies will help to transform the Web from a global file-server into something that is more like a worldwide database. By making information more machine-understandable, connected and reusable, the Semantic Web will enable software and websites to grow smarter
San Francisco (PRWEB) October 19, 2007
Radar Networks, a pioneer of Semantic Web technology, today announced the invite-beta of Twine, a new service that gives users a smarter way to share, organize, and find information with people they trust. Twine was introduced and previewed publicly for the first time today, at the 2007 Web 2.0 Summit, a Web industry conference in San Francisco. Twine is one of the first mainstream applications of the Semantic Web, or what is sometimes referred to as Web 3.0.
Knowledge Networking:
Twine provides a smarter way for people to leverage and contribute to the combined brainpower of their relationships. "We call this 'knowledge networking,'" said Radar Networks Founder and CEO Nova Spivack. "It's the next evolution of collective intelligence on the Web. Unlike social networking and community tools, Twine is not just about who you know, it's about what you know. Twine is the ultimate tool for gathering and sharing knowledge on the Web."
Sharing and Collaboration:
Twine helps people band together to share, organize and find information and knowledge around common interests and goals. Individuals can use Twine to share and keep track of information, regardless of where that information is primarily stored. Groups and teams can use Twine to collaborate and manage knowledge more productively.
Twine is Smart:
Twine is unique because it understands the meaning of information and relationships and automatically helps to organize and connect related items. Using the Semantic Web, natural language processing, and artificial intelligence, Twine automatically enriches information and finds patterns that individuals cannot easily see on their own. Twine transforms any information into Semantic Web content, a richer and ultimately more useful and portable form of knowledge. Users of Twine also can locate information using powerful new patent-pending social and semantic search capabilities so that they can find exactly what they need, from people and groups they trust.
Twine "ties it all together":
Twine pools and connects all types of information in one convenient online location, including contacts, email, bookmarks, RSS feeds, documents, photos, videos, news, products, discussions, notes, and anything else. Users can also author information directly in Twine like they do in weblogs and wikis. Twine is designed to become the center of a user's digital life.
The Start of Web 3.0:
"Web 3.0 is best-defined as the coming decade of the Web, during which time semantic technologies will help to transform the Web from a global file-server into something that is more like a worldwide database. By making information more machine-understandable, connected and reusable, the Semantic Web will enable software and websites to grow smarter," said Spivack. "Yahoo! was the leader of Web 1.0. Google is the leader of Web 2.0. We don't yet know who will be the leader of Web 3.0. It's a bold new frontier, but Twine is a strong first step, and we're very excited about it."
Twine is built on Radar Networks' patent-pending platform for Internet-scale social Semantic Web applications and services. The platform is built around W3C open-standards for the Semantic Web and enables a range of API's and features for outside applications and services to connect with Twine.
Individuals can sign-up to be invited to the beta testing phase on the Twine homepage, and users will be let into the service in waves.
About Radar Networks:
Radar Networks is the company behind Twine, a new service for intelligently sharing, organizing, and finding information with people you trust. Radar Networks was founded in 2003 by Web visionary Nova Spivack , who co-founded EarthWeb (IPO: 1998) which also produced Dice (IPO: 2007). The company has worked in stealth for several years on a proprietary new platform and online service for the Semantic Web. Radar Networks is backed by Paul Allen's Vulcan Capital and Leapfrog Ventures as well as leading angel investors, and is headquartered in San Francisco. For more information on Radar Networks and Twine, visit http://www.twine.com.
###