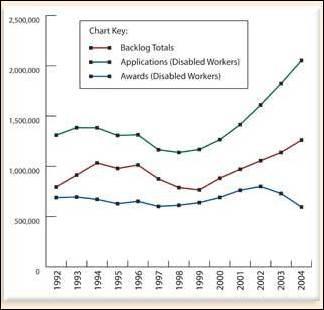 Belleville, IL (Vocus) May 18, 2007
Allsup Inc., the premier Social Security Disability representation service, was founded in 1984 as the first private, non-attorney organization to represent disabled individuals through the SSDI application and appeals processes. Allsup offers this review of the current state of disability insurance in the U.S.
THE GROWING CRISIS
Americans with disabilities are experiencing delays of months - or even years - in obtaining their rightful benefits. Nationwide, there is a backlog of more than 700,000 disability cases pending(1) before the Social Security Administration. When combined with the waiting list of over 550,000 initial applications(2), and over 137,000 reconsiderations(3), the extent of the crisis is apparent.
Action must be taken to ensure that Americans with disabilities have access to the benefits for which they paid -- and that promises made are promises kept.
A BRIEF HISTORY
Today, Social Security Disability Insurance is a key employee payroll tax-funded federal insurance program, designed to provide income to people unable to work because of a disability. In general, individuals qualify for Social Security disability benefits if they have worked and paid into the program for five of the last 10 years. However, if an individual is under age 31 they may qualify with less work history. They must also have become disabled before reaching full-retirement age (65-67) and must meet Social Security's definition of disability.(4)
The Social Security disability program was first created in 1954 under President Eisenhower as a disability freeze to protect workers' Social Security retirement benefits. This allowed workers who became disabled to protect their Social Security retirement benefits, by freezing their benefit level at the time they became disabled. Without this freeze, which still exists today, a person who stopped paying Social Security taxes would have years of zero payments which would significantly reduce their retirement benefits. Today there is no minimum payment amount under the Social Security retirement program, therefore if someone did not take advantage of the disability freeze they could see their retirement benefits reduced to zero.
The Social Security disability program was significantly expanded in 1956 to become the Social Security Disability Insurance program, a mandatory federal insurance plan.(5)
Numerous changes have been made to the program since its inception.

Under the original legislation a disability had to be permanent. In 1965 this was changed to require the disability to be one lasting 12 months or more.
In 1967 work limitations were clarified.
In 1975 annual cost-of-living increases were introduced.
Return-to-work incentives were started in 1980.
A cap on total benefits was put in place in 1981.(6)
Over the years, the definition of what qualifies as a disabling condition has also changed - and expanded.
In 1985 regulations that clarified evaluation criteria were introduced to the Social Security disability program.
In 1986 a variety of mental disorders were added indirectly to the list of eligible conditions. This shift occurred when the SSA began evaluating mental conditions based upon the functional ability of the person.
In 1990 the first guidelines for evaluating fibromyalgia were written, which significantly expanded the scope of a qualifying disability to include conditions that could not be diagnosed, but met certain defined parameters.
In 1996 conditions caused by alcohol and drug use were stricken from the list of eligible disabilities.
In 1999 obesity was also removed.
The latest revision took place in 2002, when completely revised criteria for the evaluation of musculoskeletal conditions -- such as spine and joint disorders, bone trauma and burns -- were issued.(7)
PROGRAM DETAILS
Social Security disability and Social Security retirement differ from other government programs, as they are not based upon your other income or assets (means based). Disability benefits are determined by how much a taxpayer has paid in premiums over the years and applicants only have a limited amount of time after they stop working to file a Social Security disability claim and collect on their coverage.(8)
There are four levels in the Social Security Administration's (SSA) review and award system for disability, plus an additional level that takes the individual out of the SSA system, although only a small percentage of applicants will pass through all five levels.
Level one is the initial Social Security disability application. There is an extensive amount of paperwork to fill out at this initial level. It is necessary for a doctor to verify information in the application with pertinent medical information and a confirmation that the disabling condition will last 12 months or longer. In 2005, approximately 64 percent of initial applications were denied.(9)
Level two is the reconsideration, or first appeal. At this level, a different individual within the Social Security Administration reviews the application. Approximately 86 percent of first appeals are denied.(10)
Level three is the hearing level, or second appeal. This level takes an applicant away from the SSA claims processors and places them in the hands of an administrative law judge. Approximately 63 percent of second appeals are awarded to the applicant.(11) The average time spent at this level in 2006 was 483 days.(12) If a disability hearing ends in another denial, the decision can be appealed.
Level four is the appeals council, or third appeal. At this level the Appeals Council will review the disability hearing decision to determine if it was rendered properly according to the law. Only 33 percent of third appeals result in a favorable decision for the applicant.(13) The average time to receive a decision on this third appeal in 2006 was 203 days.(14) SSA predicts that by 2008, the second appeal will take 541 days and the third appeal 290 days.(15)
There is also an additional appeal available which takes an individual into Federal District Court (FDC). In 2006, five percent of decisions in FDC resulted in a reward, 44 percent were remanded back to the hearing level for an additional hearing and the remaining cases were either dismissed or denied. These FDC figures include Supplemental Security Income (SSI) figures, which is a Social Security means-based assistance program.(16)
THE CURRENT SITUATION
The disabled population is growing - Since 1990, the number of disabled workers drawing Social Security disability has more than doubled, from 3 million(17) to 7 million.(18) As baby boomers continue to age, annual disability claims are expected to rise significantly.(19)
The SSA field staff is shrinking - According to the Social Security Advisory Board, an independent, bipartisan board created by Congress and appointed by the President and the Congress, the Social Security disability field staff workforce in 2002 was 30 percent smaller than 20 years ago(20), a trend that is expected to continue. From August 2005 through January 2007, 2,000 field office employees left SSA and were not replaced.(21)
Disability determinations are growing more complicated and time-consuming - In the early 1990s, the types of inflictions that were considered disabling increased.(22) Because these disabilities are often more complex to evaluate, the challenges in preparing and interpreting a comprehensive medical record for disabled applicants are growing.
The result: an exploding backlog - Americans with disabilities are experiencing delays of months - or even years - in obtaining their rightful benefits. Nationwide, at the end of fiscal year 2006, there was a backlog of more than 700,000 disability cases pending at the Office of Disability Adjudication and Review (level 3 and 4) alone.(23) When combined with the over 550,000 disability applications waiting an initial decision(24), level 1, and over 137,000 pending reconsiderations(25), level 2, the extent of the crisis is apparent.
At the second appeal, the 2007 wait time is estimated by the SSA to be 524 days. Appealing a third time adds an additional 208 days to the application process.(26)
Currently there are approximately 7 million individuals collecting Social Security disability benefits.(27)
THE 2007 SOCIAL SECURITY TRUSTEES REPORT
On April 23, 2007, the 2007 Annual Report of the Board of Trustees was released by the Social Security Administration. Their analysis, in conjunction with other predicators and situations, reveals a difficult future for the Social Security disability program.
In 2006 the Disability Trust Fund received $90.8 billion in contributions and generated $10.5 billion in interest income. Total expenditures, including benefit payments and administrative costs, totaled $94.5 billion. As of December 31, 2006, the Disability Trust Fund had $203.8 billion in total U.S. Government obligations.(28)
According to the report, under the intermediate estimate, total expenditures will exceed income in 2013 with the fund reserves being depleted by 2026. The low-cost estimates predict the SSDI program remaining in good shape past 2082, and the high-cost estimates predict the SSDI program depleting reserve funds by 2016.(29)
THE FUTURE
Changes are necessary to ensure that the promises made to Americans with disabilities are kept. Those changes have yet to be decided, however, the debate must start now.
In the short term, more staffing and more partnerships between the government and third-party advocacy groups are needed.
The expected retirement of 42 percent of the SSA workforce by 2014(30), with the SSA currently replacing these retirees at a rate of 1 in 8(31), shows an even greater crisis more severe than the crisis we see today.
Additionally, with the large amount of baby boomers becoming disabled, staffing increases alone will not fix this problem. Third-party advocacy groups, such as Allsup Inc., already work throughout the country with individuals to ensure eligibility, developing an accurate factual record and helping shepherd applicants through the disability decision process. If closely coordinated with the internal functions of the SSA, this could allow the SSA to focus on issuing disability decisions and clearing backlogged claims, rather than the time-consuming process of developing cases and tracking down medical information.
In the long term, the problem of a decreasing ratio of 'premium payers to benefit collectors' needs to be dealt with, while ensuring promises made are promises kept.
There is no easy fix, but action must be taken to ensure that Americans with disabilities have access to the benefits which they paid for -- and that investments they made bear fruit. People with disabilities who are unable to work are ill equipped to bear the brunt of inaction.
Allsup Inc. is the premier Social Security disability representation company in the United States and has been serving individuals with disabilities nationwide since 1984. For more information visit their Web site at http://www.allsup.com.
---------
1) Feb. 14, 2007, Congressional testimony by Sylvester J. Schieber, Chairman, Social Security Advisory Board
2) Ibid
3) Phil Landis, Senior Advisor, Office of Disability Determinations via email on 5/10/07
4) Disability Benefits
5) A History of the Social Security Disability Programs
6) Trends in the Social Security and Supplemental Security Income Disability Programs
7) Ibid
8) Disability Benefits
9) Social Security Advisory Board
10) Progression of Cases through the Disability Process
11) Ibid
12) SSA's Performance and Accountability Report for Fiscal Year (FY) 2006
13) Progression of Cases through the Disability Process
14) SSA's Performance and Accountability Report for Fiscal Year (FY) 2006
15) SSA's Performance and Accountability Report for Fiscal Year (FY) 2006
16) Social Security Advisory Board
17) Annual Statistical Report on the Social Security Disability Insurance Program, 2005
18) 2007 OASDI Trustees Report
19) Improving the Social Security Disability Decision Process - IOM Report
20) Social Security Advisory Board (2002)
21) National Council of Social Security Management Associations, Inc.
22) Trends in the Social Security and Supplemental Security Income Disability Programs
23) Feb. 14, 2007, Congressional testimony by Sylvester J. Schieber, Chairman, Social Security Advisory Board
24) Ibid
25) Phil Landis, Senior Advisor, Office of Disability Determinations via email on 5/10/07
26) SSA's Performance and Accountability Report for Fiscal Year (FY) 2006
27) 2007 SSA Trustees Report
28) 2007 SSA Trustees Report
29) 2007 OASDI Trustees Report
30) SSA's Fiscal Year 2007 Annual Performance Plan (APP) and Revised Final Plan for FY 2006
31) National Council of Social Security Management Associations Executive Committee meeting, Sept. 12, 2006
###