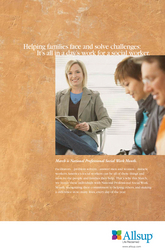 Others may think and talk about problems, but social workers do something to change the systems that perpetuate them.
(Vocus) March 8, 2010
Professional social workers believe there are no limits to human potential, and they serve others to help them lead rewarding lives, according to the National Association of Social Workers, which is celebrating National Professional Social Work Month in March. Recognizing the critical role of social workers for people with disabilities and their families, Allsup, a nationwide provider of Social Security disability representation services, joins nonprofit and community groups, and government agencies to honor the profession.
Nearly one in five, or 20 percent, of more than 600,000 social workers in the United States work in medical and public health settings, according to the U.S. Bureau of Labor Statistics. They provide practical problem-solving expertise that benefits people at all stages of life, health and ability.
Allsup professionals routinely interact with social workers who demonstrate their dedication to creating and supporting programs that respond to human needs, such as homelessness, physical and mental disability, poverty, mental illness and other issues. Social workers are employed in a variety of settings, including hospitals, drug treatment clinics, schools, nursing homes, disaster-relief agencies and other organizations.
Through education—79 percent of active practitioners have master's degrees in social work—and hands-on experience—96 percent provide direct client services—they make a wide range of contributions throughout their careers. "Others may think and talk about problems, but social workers do something to change the systems that perpetuate them," said Elizabeth J. Clark, NASW executive director. "Social workers help Americans succeed."
The theme for this year's celebration is "Social Workers Inspire Community Action." Individuals and families can find more answers to their questions through the NASW's Web site HelpStartsHere.org. The site also offers the "National Social Worker Finder" to help people find licensed social workers where they live.
Allsup salutes the National Association of Social Workers and other groups for showcasing the integral contributions of social workers in local communities. Free posters highlighting National Social Work Month are available through Allsup to hospitals, clinics and other community groups by calling Karen Hercules-Doerr at (800) 854-1418, ext. 5770.
Contact:
National Association of Social Workers
Gail Woods Waller
(202) 336-8236
http://helpstartshere.org
Allsup
Karen Hercules-Doerr
(800) 854-1418, ext. 5770
http://www.allsupcares.com
###