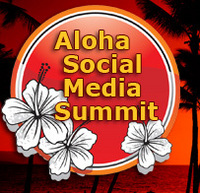 Boulder, CO (PRWEB) August 18, 2008
The second Aloha Social Media Summit, October 6-7 in Boulder, Colorado, brings together entrepreneurs, marketers and executives for two-days of hands-on social networking and web 2.0 training.
The Aloha Social Media Summit offers an unprecedented opportunity for a small group of participants to explore the opportunities - and dangers - in new media with top experts in the industry, for less than the cost of a half-day of consulting with any of the summit's speakers and presenters.
Confirmed to attend are Om Malik (Giga Omni Media), Biz Stone (co-founder of Twitter), Peter Shankman (CEO of The Geek Factory/Help a Reporter), and Susan Bratton (Personal Life Media), with Charlene Li (coauthor of Groundswell), and Roxanne Darling (Beach Walks with Rox) scheduled to appear via live video feed.
With no boring PowerPoint presentations, or sales pitches, the Aloha Social Media Summit changes the rules of learning. With seating limited to 25 attendees, the experience will be much more of a mastermind brain-storming retreat - a radical departure from standard conferences or workshops. Every attendee is certain to gain a tremendous amount of insight and practical know-how application into both cutting edge and mainstream social networking and social media campaign building and execution.
The Aloha Social Media Summit is co-hosted by Andy Beal and Dave Taylor, who bring decades of experience in the online world as consultants, entrepreneurs, teachers and, most importantly, as professionals in the trenches with social media. They have high profile brands on LinkedIn, MySpace, Facebook, Flickr, Twitter, in the blogosphere, and at professional events. Both have been involved with social media since the beginning of the industry movement.
Registration is simple, but space is limited. For information visit:
Or contact:
Dave Taylor
Phone : 303-417-0001
or;
Andy Beal
Phone: 919-816-2106
###