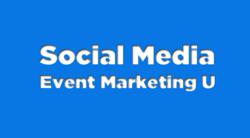 "Our market research tells us that almost 9 in 10 tradeshow marketers are still struggling with social media in their marketing efforts."
Salem, OR (PRWEB) March 02, 2012
The premium membership site for event and tradeshow marketers that want to learn about using social media is launching this week in conjunction with the Exhibitor 2012 show in Las Vegas, March 4-8, 2012.
SocialMediaEventMarketingU.com did a "soft" launch on January 1, 2012, offering a free basic membership to anyone who wanted to learn the basics of using social media. "The intent was to launch the basic site while we added more content to ramp up to the full premium site with intermediate and advanced training videos, case studies, white papers, special features and more by the end of February or early March," said Tim Patterson, co-founder of the site and co-owner of Communication One Exhibits. "It's now ready - the timing couldn't be better to coincide with this year's Exhibitor Show in Las Vegas."
Patterson, known as @tradeshowguy on Twitter, will be promoting the site while sharing booth space #1645 with Classic Exhibits over the three days, while tweeting and posting to Facebook and other social media outlets in an arrangement with the Portland, Oregon exhibit manufacturer.
SocialMediaEventMarketingU.com currently offers over four-dozen training videos aimed directly at the tradeshow and event marketer.
"Our market research tells us that almost 9 in 10 tradeshow marketers are still struggling with social media in their marketing efforts. This site is our effort to address that need on a broad basis with easy-to-digest, friendly, info-packed videos and other training tools," said Patterson.
SocialMediaEventMarketingU.com is being marketed to end users (exhibitors) and exhibit distributors. Distributors are being offered a chance to team up with the site so they're able to offer more value to their clients.
Roger Pike, VP of Corporate Training for Communication One Exhibits says, "the site is not branded with any exhibit company name – it's a white-label site which allows us to partner with exhibit dealers. By doing so they're offering their clients more value and, if they want, a discount incentive to bring more sales in from members." Partners will be able to negotiate their own deal with SocialMediaEventMarketingU.com.
The site offers three levels of membership: Silver, Gold and Platinum. Silver members pay a one-time fee of $27 and get access to over two dozen training videos under the heading of Social Media 101, along with a Social Media Audit outline and a 5% discount on any exhibit or accessories purchased through Communication One Exhibits.
Gold members gain access to all the basic and premium materials, including over two dozen Social Media 102 videos, focusing on intermediate and advanced tradeshow marketing strategies and tactics with Facebook, Twitter, YouTube, LinkedIn and more. Gold memberships cost $47 a month and also give members a 10% discount on all exhibits purchased through Communication One Exhibits. Platinum memberships are sold at a yearly price of $697, and receive all the same content as Gold members, but get a 15% discount on exhibit and accessory purchase. Monthly members can also expect to see valuable in-depth special content added each month, including interviews with experts, white papers, in-depth case studies and more.
Patterson says that a single 10-foot inline exhibit booth purchase at an industry average of about $10,000 would save a Gold member $1,000 and a Platinum member $1,500. "And there's no limit to the purchases," he added. "If someone wants a large island booth worth $100,000 retail, a Premium membership in our site would save them $15,000." Patterson says the retail prices are based on vendors' retail pricing suggestions.
Exhibitors can view details about the site at http://socialmediaeventmarketingu.com/exhibitor.
Dealers who are interested in learning more about becoming a partner can find out more at http://socialmediaeventmarketingu.com/distributor.
For more information, contact Tim Patterson at 503-589-4494 (direct), via cell at 503-507-4110, or via e-mail at tim(at)communicationoneexhibits(dot)com.