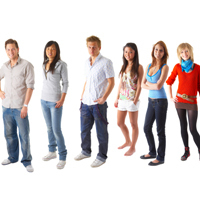 The option to sell content makes Podclass unique
San Diego, CA (PRWEB) August 21, 2007
A new online course is being offered for Facebook users, but it is not being taught by a single instructor. Instead, the course is being created by Facebook users themselves through a collaborative process known as "crowdsourcing." The class is being conducted through Podclass.com, a new online learning website that is on the cutting edge of social media and Web 2.0 trends.
Gary Gil, the founder and CEO of Podclass.com and a leading authority of user-generated education says crowdsourcing is reaching a tipping point as more and more Web 2.0 companies tap the collective intelligence of their users to design products, invent services, and build entire websites.
The concept of crowdsourcing was first introduced by Jeff Howe in a Wired Magazine article published in June 2006. After little more than a year, crowdsourcing has become a movement as thousands of reporters, bloggers, and entrepreneurs have eagerly embraced it.
Podclass's collaborative course about how to make money with Facebook Applications is the first of its kind. "As Podclass grows, there will be many collaborative online courses," says Gil. "Since Facebook apps are such a hot topic, it was ideal for tapping the collective knowledge of its users to create the course content."
With Web 2.0 well under way, there have been dozens of successful social media websites. Wikipedia, Urban Dictionary, and Digg are just a few of the most notable examples. Podclass is different because it creates a micro-community that teaches and learns at the same time. As the course content evolves, registered users receive automatic updates so they always have the most complete knowledge on a subject.
"In an age when technology enables ordinary people to gain expertise more rapidly than ever before, there is a tremendous need for a platform that empowers people to share their expertise and collaborate with others," says Gil.
Podclass has been designed to enable multiple users to collaborate on any topic and create course content for group learning. The course content can later be sold as a paid online course or distributed freely. "The option to sell content makes Podclass unique," says Gil. "It's just one more reason for people to contribute."
Podclass users can contribute content in the form of video, audio, forum posts, and more. Chat software allows users to interact with each other in real-time. "Each class within Podclass becomes a living virtual community of students who can all interact, brainstorm, and collaborate in a dynamic way," says Gil.
About Podclass.com:
Podclass.com is the world's first user-generated education website that allows users to teach online classes, share information, collaborate, and learn from other experts. To learn more about Podclass, please visit http://www.podclass.com/facebook
To schedule an interview, contact:
Gary Gil
Podclass.com
800-311-4452
Facebook is a registered trademark of Facebook, Inc.
###