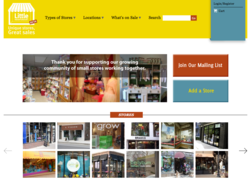 Although I had never met her in person, we had an instant connection as owners of small retail stores
Chicago, IL (PRWEB) October 27, 2011
Little Independent launched on June 1st, 2011 and now features stores in Illinois, Indiana, Delaware and Massachusetts. Independent retailers use the Little Independent website to work together to enhance online visibility, access new customers and sell inventory faster. Social media has played a key role in the site's growth and allowed camaraderie and connection among participating stores.
"Most of the stores using the site do the majority of their sales face to face at full price in their stores," says Lesley Tweedie, shopkeeper and founder of Little Independent. "Occasionally we find ourselves with excess merchandise. It is nice to be able to work together with other retailers to increase visibility to reach local shoppers or to sell those items online.
"Little Independent has increased our visibility around the country," says Alexis Eyler owner of Lollie in Evanston, IL which is one of the stores using the site. "We have seen an increase in orders on our website from California to New Jersey and many places in between, which is nice since we have taken a very local focus with our shop as far as SEO."
Little Independent utilizes Facebook and twitter (@LitInd) to connect with store owners and let shoppers know about sale items available on the site. Many of the stores using the site learned about it through social media. "Social media is a big part of our outreach strategy especially since we're really interested in facilitating connections between independent retailers and inspiring a sense of community," says Tweedie.
The community aspect of Little Independent extends beyond online interactions. "I was traveling out of state recently and had dinner with an independent retailer I connected with on Little Independent's page on Facebook. Although I had never met her in person, we had an instant connection as owners of small retail stores."
Extending beyond Illinois was a major milestone for Little Independent and the plan is to continue to grow. The more stores and sale items featured on the site, the more shoppers it attracts. It doesn't cost anything to add a store to the site and only takes about ten minutes. Independent retailers nationwide are invited to become a part of the community.
Boilerplate Statement:
Founded in 2010, Little Independent is a Chicago-based online marketplace for sale items at independent retail stores. Its mission is to be an advocate for independent retailers and to give savvy shoppers an easier way to find great independent stores and sale merchandise. To shop or sell, please visit http://www.littleindependent.com.
# # #