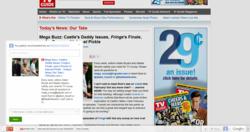 ...Backed by the #1 and #2 top search engines in the world... My bets are on Google+ .
Melbourne, Victoria (PRWEB) January 15, 2013
Last month TheNextWeb.com, one of the world's largest online publications for internet news, announced that the anticipated Google+ social sharing bar was discovered on TV Guide's website. Since acquiring the long standing instant messaging company Meebo in 2012, experts have been waiting to see how Google would incorporate the chat service into their platform. Social media marketing strategist and owner of Australian Internet Marketing David Jenyns says, "This move will bolster interaction by putting Google+ front and centre on a website."
The evolution of social media has just sort of 'happened' over time with websites like Myspace becoming an instant hit before it was overrun by Facebook. Then more social media platforms, like Instagram and YouTube, began rolling in to fill the gaps for better photo and web video sharing. David says, "Despite being one of the world's largest search engines, Google's social media platform Google+ is still struggling to overtake their competition."
David continues by saying "Google doesn't appear to be backing down with their social media marketing strategy though." Last year they acquired Nik Software, a photo sharing program like Instagram, as well as long-time instant messaging company Meebo. This acquisition activity put social media experts on alert that something big was about to happen with Google+. "Everyone knew Google purchased Meebo for Google+," says marketing expert David, "But just how they'd execute it was a mystery."
Google+ allows users to easily search and share web videos, news, shopping sites, and video chat together via the Google+ Hangouts platform. David goes on to say, "Notwithstanding all their tools and hard work, user interaction at Google+ is still lagging." He also mentions now that Google+ has started rolling out the Meebo-inspired social sharing bar, visible on most TVGuide.com pages, "Google+ just might get more social media interaction from their users." If interaction does increase, it's great news for those who implement social media marketing like David, "It's all about sharing, and the easier Google+ makes it, the better for us all."
Because the Google+ sharing bar is still in its early days, David recommends companies use the existing business social media marketing tool called 'sharing widgets' or buttons; of which an example can be viewed on the top right of the Australian Internet Marketing page. These widgets provide the viewer the opportunity to spread the word about that particular webpage via their preferred social media site. Typically, the buttons are static and require the user locate them once they decide they want to share a webpage.
Different to those standard widgets, the new Google+ social sharing bar stays visible regardless of where the viewer is on the site, "So no more hunting for those little widgets." David further mentions that "Even though Google+ has a little ways to go to catch up with the level of user interaction at Facebook, I think they're going to become a major social media site because of their ability to incorporate all aspects of what web users want in one place." He continues with "once they add their social sharing bar to more sites, their user interaction will greatly improve, and cause more people to register and network."
David also says "It's really exciting to see how far Google is willing to go with social media, because it adds force behind what marketing strategists like myself are doing." He continues by saying that his strategy is a combination of SEO, utilizing the most popular social media sites including Google+, and more particularly leveraging the power behind web videos on YouTube.
David says it's also important to note Google owns YouTube as well, making "the strength of using a Google+ account highly undervalued at this point in time." He says "Google+ is backed by the #1 and #2 search engines in the world, Google and YouTube respectively. My bets are on Google+ going forward."
David closes by advising those interested in utilizing a social media marketing strategy to not overlook becoming a Google+ user, "Along with the other social media sites, get a Google+ account and start sharing on it immediately. Google+ is gaining ground with their 500 million-plus registered users and with their constant improvement with tools like the Meebo-inspired sharing bar, their interaction will hit a critical mass soon and sky rocket."
To learn more about Australian Internet Marketing's social media strategies, visit: http://www.australianinternetmarketing.com/social-media-marketing-strategy/
About Australian Internet Marketing
Australian Internet Marketing is a division of MelbourneSEOServices.com, a full service search engine optimization (SEO) consultancy, based in Australia, but with a worldwide client base. Australian Internet Marketing has the unique ability to combine the easy and strategic SEO practices from Melbourne SEO with affordable and effective web videos from Melbourne Video Production, which always produce the best results.
Director, David Jenyns, has, over several years, built a team of experts who are niche experts to support the business, and who share his ethos for ethical, professional internet marketing and web video.