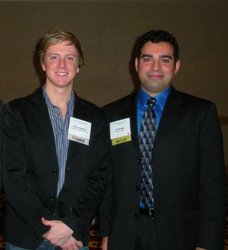 "We were very excited to sponsor this event. Our firm started in Social Media in 1999, when we built our web community forums and we are always looking towards the future of where Social Media will be. Not only for ourselves, but also for our clients" s
Gaithersburg, MD (PRWEB) December 9, 2009
Facebook cofounder and architect of Barack Obama's unparalleled social media presence, My.barackobama.com, Chris Hughes, visited some 200 local business leaders and members of the Maryland technology council on Wednesday morning, December 2, 2009, to deliver a presentation about the future of social media and how he envisions businesses taking advantage of increased global interconnectivity.
Immediately following a light breakfast and an hour of networking, Mr. Hughes proceeded to deliver his presentation, which focused on how a new information revolution has begun and is changing the way citizens of the world create and exchange information, how social media websites have facilitated a real time conduit for customers' opinions of the services and products they use, and how businesses now have a greater ability to understand and influence these relationships than ever before.
As an emerging web marketing startup that focuses on building socially integrated web presences and brands on behalf of its clients, Boost Labs was pleased to be a part of facilitating a forum for Mr. Hughes to share his perspectives with others, as so many of them are at the heart of the innovations the company creates on behalf of its clientele. "We were very excited to sponsor this event. Our firm started in Social Media in 1999, when we built our web community forums and we are always looking towards the future of where Social Media will be. Not only for ourselves, but also for our clients" said Boost Labs CEO, Ali Allage.
To Learn more please visit: http://www.boostlabs.com
ABOUT THE TECH COUNCIL OF MARYLAND, INC.
The Technology Council of Maryland, Inc. (TCM) is the largest technology trade association serving the advanced technology and biotechnology communities of Maryland. TCM's mission is to advocate for the interests of the technology community, further the role of technology in the Maryland economy, and nurture an environment where technology companies can collaborate, grow and succeed. For more information, visit http://www.techcouncilmd.com.
About Boost Labs:
Boost Labs, LLC is an Internet Marketing Company based in Gaithersburg, Maryland (Washington DC Metro Area) serving Maryland, Virginia, and Washington DC area customers. For more than eight years we have fine-tuned our services based on Internet properties we have developed for ourselves and have applied the same techniques for our clients to achieve success. As a small company we are constantly evolving our services to stay ahead of the curve. What does this means for you (the client)? It means that our services are proven methods and have produced results. All of our work translates to more success for you and if it doesn't then we don't get paid for our work, hence our mission statement: "Driven By Results".
###