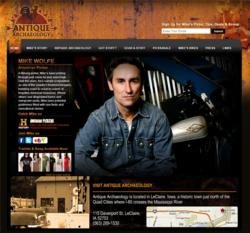 Social Media has me connect to my fans in a unique and meaningful way. We learn something new everyday.
Chicago, IL (PRWEB) July 06, 2011
Chicago's Simplified Solutions is helping Mike Wolfe, star of HISTORY's hit show American Pickers, promote his Antique Archaeology brand and build deeper relationships with his loyal community of fans using social media and email marketing. American Pickers is the highest rated show in the HISTORY Channel's history. The show features Wolfe and his partner Frank Fritz, roaming the back roads of America, digging in old barns, attics and junkyards in search of forgotten treasures and rusty goldmines.
The show's charismatic star picked the Chicago online marketing agency to developed a suite of online marketing solutions including a new website, multiple social media platforms, and an email marketing campaign to build fan loyalty. Social commerce, online auctions, and an online marketing campaign for Wolfe's two Antique Archaeology retail locations are helping generate new revenue.
"Social Media has proved invaluable to me," said Wolfe. "I listen and learn from my fans about what they ant and respond. It has really helped me connect in an unique and meaningful way."
Simplified Solutions built Wolfe's rust-covered Antique Archaeology website around compelling stories, images and videos. Fans can bid on the show's picks at the "Picks4Sale" online auction, or shop at "The Honey Hole" online store. The "Show and Tell" social forum encourages people to post images of their items and get answers from partner CollectorWeekly.com's community of experts.
AntiqueArchaeology.com averages over 180K visitors per month. 85% of the visits are unique.
Social Media is turning out to be the star of the entertainment personality's marketing mix. Simplified Solutions' social media management team built a base of over 70,000 avid Facebook friends and 20,000 Twitter followers. Exclusive content includes video, behind-the-scenes images, daily updates from the road, contests and polls. The social sites are also used to promote charitable causes and events. Simplified uses the Whosay Social Media Management suite and Moontoast social commerce platform to deliver an ehanced experience. The online marketing agency also activated a Facebook advertising campaign to drives traffic to the online store at 6X ROI.
Another key component of the online marketing plan is an email marketing campaign. The monthly e-journal, branded "Picker's Journal", features original and exclusive content from Wolfe and is designed to promote Antique Archaeology to a database of 40,000 loyal fans. Sign-up was promoted through social media and the website.
Next up? Simplified Solutions is working with Wolfe on a social community, educational games and apps just for kids. KidPicker.com will debut this fall.
For more information regarding the American Picker success story or Social Media and Email Marketing, contact Bill Kamper at 312-846-7669 or email Simplified Solutions at info(at)simplifiedsolutions(dot)biz.
About Simplified Solutions
Simplified Solutions is an online marketing firm located in Chicago specializing in Social Media Management, Search Engine Marketing, Online Planning, Email Marketing and Web Video production. Clients include The John Marshall Law School. American Picker's Mike Wolfe - Antique Archaeology, Young Rembrandts, Central Asia Institute, Bridgeview Banks, Power Equipment Direct, Meritus Homes, Smart Resources Staffing and Affiliated Resources.
# # #