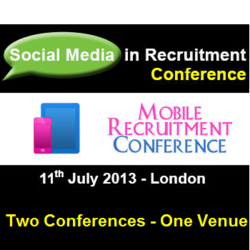 (PRWEB UK) 13 May 2013
Matthew Jeffery, Head of Global Talent Acquisition Strategy & Innovation at SAP, will be the keynote speaker at the 2013 Social Media in Recruitment Conference on the 11th July 2013. The conference is being run jointly with the Mobile Recruitment Conference at the Hotel Russell in London.
Mike Taylor from conference organisers, Web Based Recruitment, commented "We are delighted to have Matthew as our keynote speaker. Matthew has a wealth of recruitment experience to share and was an early adopter in the use of both Social Media and Mobile.
Matthew will be sharing his current knowledge and predictions in his keynote address "Recruiting in a Social & Mobile World."
ABOUT MATTHEW JEFFERY
Matthew Jeffery is a world renown leading Recruitment Strategist and Talent Thought Leader. He has over 16 years recruitment experience and 5 years sales and marketing experience. Matthew was voted 'Recruitment Personality of the Year' at the 2010 Recruiter Awards.
Matthew is currently the Global Head of Talent Strategy & Innovation at SAP, the world leader in enterprise applications in terms of software and software-related service revenue. He has previously been the Head of EMEA Talent Acquisition & Global Talent Brand at Autodesk; and Director of Talent Brand at Electronic Arts, (with 5 years heading up the EMEA Recruitment function).
ABOUT THE SOCIAL MEDIA & MOBILE RECRUITMENT CONFERENCES
The two conferences on the 11th July 2013 have been programmed to help the following types of Recruiters and businesses maximise the use of social media and mobile in recruitment:

HR Corporate Recruiters
Recruitment Agencies
Recruitment Advertising Agencies
Job Boards
Recruitment Industry Suppliers
MORNING PROGRAMME
In the joint morning programme, expert speakers will share their extensive knowledge including:
Best Practices – What is working well in Social Media and Mobile Recruitment and how to get similar (or even better) results
Case Studies – How Recruiters are using Social Media and Mobile to hire great people (including success stories from our previous delegates!)
Latest Trends – What's "hot" right now and what you should be doing to stay ahead
AFTERNOON PROGRAMME
The afternoon programme will include separate Master Class Sessions covering:
Social Media:
LinkedIn - The latest strategies on how to maximise the use of LinkedIn to find and attract job seekers
Facebook - Making Facebook a really effective part of your recruiting strategy
Google + - How to get great results from using other Social Media channels including Google+ and Pinterest
Mobile:
Why mobile has become an essential part of recruitment and how to implement a mobile recruitment strategy
Mobile Websites & Mobile Apps - Which one to choose and the pitfalls to avoid
How to use Mobile Marketing to attract targeted job seekers
For more information about each conference visit: the Social Media in Recruitment Conference and the Mobile Recruitment Conference websites.
ABOUT WEB BASED RECRUITMENT
Web Based Recruitment are widely acknowledged as innovators in producing high-quality educational Recruitment Conferences focusing on emerging technologies with a focus on Social Media, Mobile and Video in Recruitment.
Since 2009 over 1,000 delegates from 23 different countries around the world have attended conferences organised by Web Based Recruitment.