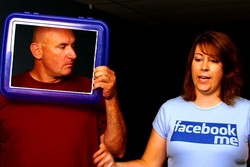 The video was created to show the difficulty that non-profits and businesses have trying to communicate and expand their reach using social media as a marketing tool
Farmington Hills, Michigan (PRWEB) September 12, 2009
Linkedin, Facebook, Blogger, YouTube and Twitter Plan a Takeover of Plasmos in "Social Media Unplugged."
Social Orgs, has just released "Social Media Unplugged." The video shows a social media platoon under the direction of a "Fidel Castro" type leader planning a takeover of an island using all of the social networking capabilities.
"The video was created to show the difficulty that non-profits and businesses have trying to communicate and expand their reach using social media as a marketing tool," stated Joey Silvian, Social Director of Social Orgs. "We wanted to show the issues involved in using the most popular social media when the messaging is not well thought out and integration of all the social media components are not planned."
Social Orgs is anticipating the next level of social media that is happening when multiple people in organization are tweeting, blogging, facebooking and participating in discussion groups with no particular messaging strategy. Each medium has a specific way of communicating and if the organization's messages aren't clear or focused, the end result is a lot of wasted energy and effort.
Also, the roles of each person in the organization need to be developed and clarified so that a unified brand message is communicated. Incorporating the personality of the individual along with the branding of the organization is a key ingredient to have these social media work effectively.
Strategic planning of message content, conversation placement, and integrated communications are crucial elements to make social media work effectively.
Social Orgs offers a customized plan to corporations and non-profits to create effective social media campaigns. Those plans involve listening, watching, participating in conversations, and initiating communications with known or unknown audiences. Also, both qualitative and quantitative metrics are built into each plan.
"The objective is to get people involved with personalities and the brand of the organization in an experiential way, as does our video" says Joey Silvian.
The video will be premiering around Metro Detroit at during the beginning of September and will also be able to be seen at the SocialOrgs website.
# # #