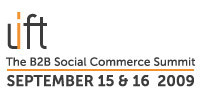 Atlanta, GA (PRWEB) August 17, 2009
Five online and social marketing industry leaders - representing some of the nation's top digital marketing companies - have signed on to speak at LIFT: The B2B Social Commerce Summit. The new speakers join an already-impressive list of industry leaders presenting at the two-day conference in September. Conference organizers have also added a unique business-to-business (B2B) social community user panel, consisting of active users of OfficeArrow, an online social community for office professionals and small-business owners.
At the LIFT Summit, scheduled for Sept. 15 and 16 in Atlanta, B2B marketing and advertising professionals will share real-world examples of social commerce strategies and tactics that have driven sales lift, increased customer loyalty, and produced actionable metrics and measurable ROI.
"The newly added LIFT Summit presenters are active practitioners in the fields of online marketing and social commerce," said Robert Ball, CEO of OfficeArrow and a Summit leader. "They have direct experience developing and implementing social commerce campaigns and are eager to share their practical knowledge with LIFT Summit attendees."
Newly added presenters include:

Richard Guest, managing director, New York Office, Tribal DDB Worldwide, a top-ten international digital marketing agency
Allen Nance, president, Mansell Group, the largest privately held e-mail marketing firm in the country
Erik Qualman, global vice president of online marketing, EF Education, the world's largest private educator, and author of "Socialnomics: How Social Media Has Changed the Way We Live and Do Business"
Jeff Hilimire, managing director, Engauge Digital, the digital marketing unit of a Engauge, a full-service marketing agency
Richard Evans, product marketing manager, Silverpop, a global provider of e-mail marketing and marketing automation solutions
The OfficeArrow Panel, conducted on the second day of the LIFT Summit, will teach attendees how to create a dynamic dialogue with customers without overtly pushing an organization's products or services. Chrissy Scivicque, former office administrator and managing editor of OfficeArrow, will moderate the panel discussions.
"User" panelists include:

Patricia Robb, executive assistant and blogger ("Laughing All the Way to Work: A Survival Blog for Today's Administrative Assistant")
Dewoun Hayes, office professional, author and blogger ("The Office Professional's Place")
Sydni Craig-Hart, virtual assistant and creator of the "Executive Assistant to Virtual Assistant" Web site
Presented by OfficeArrow, the largest and fastest-growing online community of office professionals and small business owners, and the Wharton Interactive Media Initiative (WIMI), a research arm of one of the world's top-ranked business schools, the LIFT Summit will address the very specific marketing and communications needs of B2B companies looking to engage in dynamic dialogue with customers and move the needle on sales.
Additional information on the LIFT Summit speakers and Summit topics is available at http://www.LiftSummit.com as well as Twitter (http://www.twitter.com/OfficeArrow and http://www.twitter.com/WhartonInteract), LinkedIn and Facebook.
The conference will be held Sept. 15 and 16 at Atlanta's Georgia Tech Hotel and Conference Center. Summit attendance is capped at 300 to ensure that each attendee has the optimal experience. Attendees can register at http://www.liftsummit.com/register.htm.
About OfficeArrow
OfficeArrow is the largest and fastest-growing online collaborative business community for office managers, executive assistants, small business owners and other Office Professionals. OfficeArrow's social commerce platform provides solutions to problems, tasks and other business issues with tips and advice from industry experts, articles and discussions from the OfficeArrow staff and answers to members' questions from trusted peers and professionals. For more information, visit http://www.OfficeArrow.com.
About The Wharton Interactive Media Initiative
The Wharton Interactive Media Initiative (WIMI) is the world's first and foremost data-driven research center focused on interactive media, its effects on global businesses, and implications for traditional business models. Capitalizing on the Wharton School's longstanding leadership in data-driven research, WIMI seeks to foster collaboration between world-class researchers and leading-edge businesses to understand how to monetize interactive data that they and others collect. For more information, visit http://www.whartoninteractive.com.
Media contacts
Sara Antonio Murphy
Burdette Ketchum
santonio (at) burdetteketchum (dot) com
Office: 904.645.6200
Cell: 239.989.2467
Michelle King
Burdette Ketchum
mking (at) burdetteketchum (dot) com
Office: 904.645.6200
Cell: 904.654.2772
###