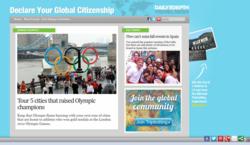 The travelers interviewed expressed an urge to ditch the guidebooks and experience destinations the way the locals do.
New York, NY (PRWEB) August 31, 2012
Declare your Global Citizenship was produced by Conversionplanet in partnership with Triptrotting.com, travel expert Julia Dimon, International News Editor David Tykol, and a variety of jetsetters from all around the world.
The special section, which will be promoted on USAToday.com until Tuesday, September 4, encourages Americans to get out and explore the world, while using social media as a tool to connect with locals and transcend the traditional tourist experience.
The travelers interviewed expressed an urge to ditch the guidebooks and experience destinations the way the locals do. "It can be powerful to have an authentic exchange on a human level," explains Shoshanna Sumka, assistant director, Global Learning and Leadership Center for Engagement and Services, American University. "It is a completely different life experience that you're not getting on a scripted tour."
Structured tours aren't to be completely disregarded, but today's travelers are using them as only part of the travel experience. For example, Sean O'Connell, associate director, Office of Undergraduate Student Services at the University of Southern California has taken hundreds of Marshall Business School students on trips abroad over the years. He prefers to take a guided tour of all the local tourist hot-spots on the first day to get preconceived notions out of the way. "This sets up the week to allow students to explore in more detail and to dig deeper," he says.
"Locals may not know everything about history but they can tell you why things work in a certain way in that specific country, and what you should see so you don't waste your time," explains Chiara Dalla Libera, a member of Triptrotting.com who was born in Italy and currently resides in Lisbon, Portugal.
Communication technology is helping people stay in touch and get together more frequently. Through Triptrotting.com, for example, Libera has helped organize two "Trip Up" events that enable locals and tourists to mingle at a Happy Hour in the lounge of a hostel. "These were opportunities for the locals to experience a different place and for the tourists to get some tips about Lisbon," she says. "We have these options that our parents and grandparents didn't have."
Modern tourists are also getting wiser about how to find local events, according to David Tykol, editor, International Travel News. The magazine's subscribers tend to look for cafes where locals eat, stay in smaller hotels, and opt for local guides instead of large group tours, he says.
Read more from Declare your Global Citizenship here.