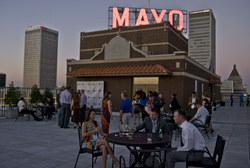 I believe people prefer to do business with others with whom they share social experiences
Tulsa, OK (PRWEB) September 3, 2010
When many bars and restaurants in downtown Tulsa were looking around for customers, the Penthouse Bar at The Mayo Hotel was in a "twitter" with the excitement created by Social Media Tulsa's meetup on Thursday, August 26, 2010.
The social media phenomenon and a desire to rediscover her home city of Tulsa are the juggernauts powering this growing Tulsa community which was started by event and social marketing specialist, Cheryl Lawson.
"I believe people prefer to do business with others with whom they share social experiences," said Lawson. "The key to social media is about being… well social. Social Media Tulsa is an extraordinary way to embrace the power of social media while demonstrating the importance of face to face connections."
Members of Social Media Tulsa include small business owners, authors, photographers, and those responsible for social media marketing for some of Tulsa's largest companies and charitable organizations.
"Social Media Tulsa is a phenomenal mix of people who are willing to be both teachers and students of social media, which makes for the absolute best kind of meetings, because it isn't just "lecturing", it's more of an exchange. To find such a diverse group that still has so much in common, thanks to Social Media, is a fantastic thing. Hopefully it will continue to expand in the future." Tiffannie Slone, Owner of Captured Charms Photography
"I am truly enjoying the people in this group... all walks, all levels of 'expertise', but all interested in social media and using it effectively for personal and for business branding and growth. Even some non-profits are in the group... engaged, friendly and social! Well worth attending an event." Mandy Gambrel Vavrinak, President of Crossroads Communications, LLC .
Social Media Tulsa has created quite a buzz in just a few months. Sponsors and hosts receive an invaluable amount of tweets, facebook posts, and check-ins leading up to, during, and after the meet ups.
The eight foot Social Media Tulsa banner, provides the perfect back drop for photos and video interviews, many of which are shared with friends and followers for months and years to come.
"Getting started with social media can be a daunting task," added Lawson. "We try to remove the stigma associated with social networks and bring the human connection to the forefront. The support from our sponsors and hosts allows us to offer an atmosphere that is welcoming, educational, and of course Fun. At Social Media Tulsa we're putting "social" back in Social Media.
The next Social Media Tulsa meet up will be held at downtown Tulsa's Dilly Deli on September 18, 2010.
About Social Media Tulsa
It all began with Social Media Day Tulsa at Fat Guys Burger Bar in the historic Greenwood district. Social Media Tulsa is a platform that allows its members to get together and talk about the impact of Social Media on business, news, entertainment, sports, non profit, and any other topics that need to be discussed. You don't have to be an expert to join. Social Media and social networking is new and growing and no one can claim to know it all. Collectively, we can share knowledge.
Follow Social Media Tulsa on Twitter @SocMediaTulsa
To join, host, or sponsor a Social Media Tulsa meet up, visit SocialMediaTulsa.org
###