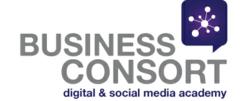 Internet overtakes TV to become biggest advertising sector in the UK
(PRWEB UK) 5 October 2012
A record £1.7bn online spend makes UK the first major economy to spend more on web ads than TV!
Business Consort - The Digital and Social Media Academy surveyed their subscribers to identify the biggest obstacles businesses face when trying to achieve results through digital and social media marketing and how much of their marketing budget was allocated to online activities..
The results showed that most businesses simply have not deployed a strategy at the offset and don't implement suitable ways of measuring their success or rather lack of but all had the majority of their marketing budgets allocated to online advertising.
Another key finding was that businesses were faced with such an amount of new information and an array of social media sites that trying to identify which to focus their efforts on was impossible.
With this is mind Business Consort set out to help businesses overcome these issues by offering an array of digital and social media training courses for all levels from beginners through to those wishing to gain a worldwide recognised qualification such as the Diploma in Digital Marketing.
As time was raised as a key issue they announced the launch of their new on demand learning community so their courses can be taken at a time to suit their delegates.
Director and Digital Marketing Specilaist Dawn McGruer FRSA wanted to provide quick and easy to understand videos, guides and blog articles to help simply the minefield of social media to help businesses acheive success with their digital marketing strategies.
She was then recognised for effforts in helping businesses with social media by The Royal Society of Arts hence achieveing her fellowship status and Business Consort became a Chartered Institute of Marketing accredited study centre in 2011.
Find out more by visitng Business Consort's website and see taster of their videos here.